Minister for Middle East Alistair Burt: "Bold decisions needed to ensure peace in Middle East"
Foreign Office Minister for the Middle East Alistair Burt calls for both sides to return to direct negotiations during a visit to Israel and the Occupied Palestinian Territories.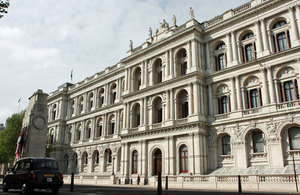 Speaking about his visit Mr Burt said:
"I look forward to discussing a range of issues with both Israeli and Palestinian officials and further developing our strong and deep relations with both.
I have said many times that despite the uncertainty of the Arab Spring we must not be diverted from pursuing peace in the Middle East. The Middle East peace process must not be a casualty of a historic push for freedom across the region.
That is why I will be encouraging both sides to return to direct negotiations immediately on the basis of parameters as set out by US President Obama in May. Time is running out for a two-state solution and both sides must take the bold and difficult decisions that will ensure a better, peaceful future for Israelis and Palestinians alike.
During my visit I will also explore important and sensitive issues including the ongoing and unacceptable detention of Gilad Shalit, the treatment of Palestinian human rights defenders, Palestinian reconciliation and Israeli security concerns - including with regard to Iran.
I will also visit Gaza to see first hand the situation on the ground to explore how further progress can be made on the back of recent Israeli decisions to approve two housing projects and 18 schools. While will never underestimate the security needs of Israel, the high levels of unemployment, the collapse of private sector business, and traffic through the tunnels still indicates that more could and should be done to improve the situation.
I will also visit Sderot where Israeli civilians still live under the constant threat of rocket attacks.
Both are vivid illustrations of the consequences of conflict on innocent civilians and the compelling need for a sustained peace that can only come through a negotiated solution."
Yesterday Mr Burt met with Israel's Deputy Foreign Minister Danny Ayalon. Read full story.
Published 28 June 2011