World news story
Minister for Europe's talk at University of Montenegro
Minister for Europe, David Lidington addressed Montenegrin students, academia and other guests at University of Montenegro on 04 Feb 2014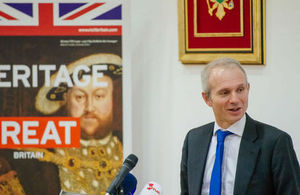 I would like to thank the Rector of the University and his staff for allowing me to speak you to today and for organising this event. It is also good to see Ambassador Pejović again, so soon, after our last meeting in London, two weeks ago.
I am delighted to be back in Montenegro after too long a break. I last visited here, albeit briefly, in June 2011. Mine is the latest in a series, with the aim of helping to intensify the British-Montenegrin relationship. Deputy Prime Minister and Foreign Minister Lukšić had talks with the British Foreign Secretary, William Hague, in London, in October 2013. This was followed shortly afterwards by a visit from a Montenegrin parliamentary delegation in November. And, as I mentioned earlier, Aleksandar Pejović visited in January. In the next month the Minister of Labour and Social Affairs is visiting Northern Ireland for discussions on child protection services and we expect a high-level Montenegrin delegation at the EBRD Western Balkans investment summit in February 2014.
This increased activity is no coincidence. Montenegro is now at a crucial stage of her EU accession process, where the "New Approach" kicks in. Now the phase of aspirational poetry is over and we are moving into the prose of hard negotiation together.
The United Kingdom has long supported enlargement as one of the European Union's greatest strengths.
EU membership has proved a huge driver for peace, prosperity and progress right across our continent, and nowhere more important than here in the Western Balkans.
Last year we welcomed Croatia as the first member state from this region. Now, of course, it is Montenegro who is setting the pace.
The UK remains a strong supporter of Montenegro's future in the EU. We are pleased to see her progress so far, and specifically the opening of Chapters 23 and 24 in December. This is an important landmark, and also a key element in the "New Approach". We particularly welcome this new aspect of the negotiations, which will ensure the transformative nature of the EU accession process for Montenegro.
For us, the rule of law, human rights, good governance and anticorruption issues remain top priorities. Montenegro needs to ensure that the action plans for each chapter are implemented and enforced in full in order to deliver concrete results.
We are matching our words with deeds. Our European Union-related bilateral cooperation is increasing in several areas, including helping out with negotiation and communication skills training, professional and management advice for officials and practical support to those Montenegrin institutions tackling corruption and organised crime.
At this stage we are looking to intensify our bilateral cooperation as more chapters open, provided that Montenegro, and specifically Ambassador Pejovic, want us to.
As in the case of the EU, the UK is a strong supporter of Montenegro's NATO membership ambitions. For us NATO's Open Door policy remains a cornerstone of the Alliance. I think it is important to stress that EU and NATO membership values overlap, notably in areas such as justice, rule of law and good governance.
In addition, aspirant nations are required to fulfil specific criteria under the Membership Action Plans. Montenegro has made substantial progress in this area, but still has some work to do on several criteria including security reform, budget and public support.
In the meantime, we are increasing our practical support for Montenegro's NATO aspirations. Here, examples include defusing old ammunition, English language training for military personnel to improve NATO interoperability and support for the NATO public information centre.
Outside the EU and NATO focus, our bilateral relations are also flourishing. Last year's highlight must be the visit of Rodney from "Only Fools and Horses", supporting UNICEF's superb "Every Child Needs a Family" campaign, although football fans might well disagree!
Elsewhere, British tourism reached a record high of 40,000 and our trade relationship improved, no doubt in part due to more British yachts anchoring in Porto Montenegro.
At this stage, 2014 promises to be even better as we celebrate the 20th anniversary both of the British Council and the Chevening Scholarships programme in Montenegro. I gather there may well be several alumni in the audience. We will also be celebrating the Globe Theatre's visit to Podgorica in the summer to mark Shakespeare's 450th birthday, and improved direct transport links in the shape of Ryan Air's Stansted –Podgorica service. In July, there is, of course, the Exit Dance Festival, which will bring thousands more British tourists to your beautiful shores.
This is a very short summary of where I see the British-Montenegrin relationship now. From my perspective, it is working very well and I am optimistic about the future.
However, that is probably enough from me. Now, I would very much like to hear some questions and comments from you.
Published 4 February 2014