News story
Minister for Europe welcomes publication of NIESR report
National Institute for Economic and Social Research report on potential impacts of migration from Romania and Bulgaria was published today.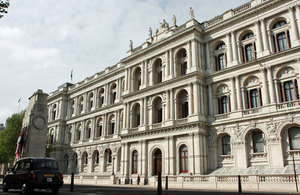 The National Institute of Economic and Social Research (NIESR) report 'Potential Impacts on UK of Future Migration from Bulgaria and Romania' was published on Friday 5 April. The report, commissioned by the Foreign and Commonwealth Office, draws together existing research on the potential impacts on the UK of future migration from Bulgaria and Romania after the lifting of EU transitional controls on 31 December 2013.
The Minister for Europe, David Lidington, said:
This report by the National Institute for Economic and Social Research is a welcome contribution to the debate on migration. The report will help to shape this Government's work to build an immigration system which works in the national interest – supporting the UK economy by continuing to attract the brightest and the best global talent, at the same time as protecting our public services and ensuring our welfare system is not open to abuse. Our tough new rules are already taking effect with overall net migration falling by almost one third since 2010.
Further Information
Read the full report Potential impacts on UK of future migration from Bulgaria and Romania
Find out more about NIESR the on their website
Published 5 April 2013