Minister for Europe visits Ukraine
Minister for Europe David Lidington said that the UK is a "firm supporter of a strong, free and independent Ukraine and its European aspirations", ahead of his first official visit to Ukraine on 13-14 October 2010.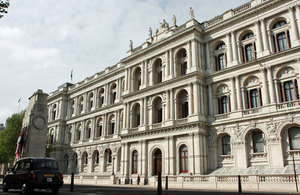 UK Minister for Europe David Lidington
During his visit, the Minister will meet Foreign Affairs Minister Hryshchenko and other senior members of the government. He will also meet representatives of the Ukrainian opposition, the British community, the media and influential opinion-formers.
The Minister will talk to his Ukrainian interlocutors about areas of common interests such as UK-Ukraine relations including trade and commerce and Ukraine's aspirations to join the EU.
David Lidington says, "On my first visit to Ukraine since the new British government was elected in May, I am eagerly looking forward to a first-hand view on how the country is developing".
Published 13 October 2010