Minister for Europe visits the Netherlands
David Lidington, British Minister for Europe, visited the Netherlands on 9 March.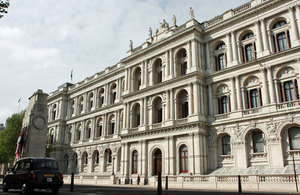 The visit focused on the important political and economic partnership between the UK and the Netherlands, building on the UK/Netherlands Strategic Business Dialogue launched in November 2010.
The Minister met members of the Dutch government and business leaders to discuss how the two countries can work together in the EU to encourage competitiveness and growth in the face of global competition.
During the visit he also spoke at VNO - NCW, the Confederation of Netherlands Industry and Employers, in The Hague. In his speech, entitled European Union Enlargement: Tulips, Trade and Growth he outlined the opportunities presented by EU enlargement to the UK, the Netherlands and Europe.
In the video below, recorded during his visit, David Lidington elaborates on the history of bilateral relations between the UK and the Netherlands and their shared global outlook today.
Minister for Europe David Lidington visits the Netherlands
Published 9 March 2011