Press release
Minister for Europe visits Poland
The Minister for Europe and the Americas, Sir Alan Duncan, is in Warsaw to "encourage, accelerate and deepen our ties".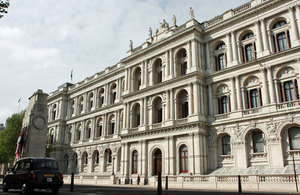 Sir Alan Duncan will attend the first ever Polish-British Belvedere Forum, which brings together experts from both countries to discuss future relations, and deliver a speech to its official opening.
He will also hold talks with Foreign Minister Witold Waszczykowski, and Defence Under-Secretary of State Tomasz Szatkowski, where they will discuss European security and defence, NATO and UK-Poland ties.
Sir Alan said:
The UK and Poland enjoy a close and enduring relationship. Our shared history is important. But our shared future matters even more.

The first ever Polish-British Belvedere Forum is a clear demonstration of that closeness, and will encourage, accelerate and deepen our ties.

I am proud that we have a dynamic Polish community in the UK – which is important to all of us – and I look forward to continuing to develop our close relationship on my trip to Warsaw.

We are leaving the EU, but we are not leaving Europe, and my message to our friends and allies in Poland is that we want to build a real partnership, and maintain the strongest possible links, including through a bold and ambitious free trade agreement with the EU.
The Belvedere Forum, which takes place tomorrow [March 9], is a new annual event that brings together more than 100 British and Polish experts from business, academia, media and politics to discuss opportunities, interests and cooperation between our two countries.
The UK and Poland governments agreed to establish the Belvedere Forum in 2016. This year's forum, the first of its kind, will look at British-Poland relations up to 2025, and takes place at the prestigious Belvedere Palace in Warsaw.
Further information
Published 8 March 2017