Minister for Europe meets Moldovan Deputy Foreign Minister
Minister for Europe, David Lidington MP, met the Deputy Minister of Foreign Affairs and European Integration of the Republic of Moldova, Andrei Popov on 18 March.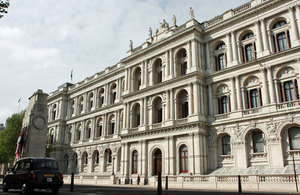 The Ministers discussed a range of issues, including the Eastern Partnership, EU enlargement, and the prospects for a sustainable settlement on Transnistria. They agreed that Moldova was making impressive progress in negotiating an Association Agreement with the European Union.
Speaking after the meeting the Minister said: "I am very pleased to see Deputy Foreign Minister Popov again, here in London. We have met a number of times over the past few months, including during my visit to Moldova last September and at OSCE meetings. The UK strongly supports the Moldovan Government's ambitious programme of political, economic and social reforms, which will help improve stability and prosperity in Moldova. It will also bring Moldova closer to the European Union. I very much look forward to the day when the EU has a functioning Association Agreement with Moldova in place."
Published 18 March 2011