Minister for Europe emphasised urgency of progress in Bosnia and Herzegovina
Minister for Europe David Lidington said that while the UK remain champions of Bosnia and Herzegovina's progress towards EU accession, it does require leadership, creativity and compromise from leaders of the Bosnian Government.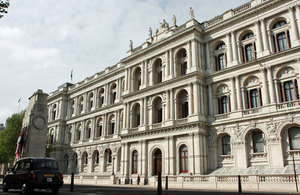 Foreign Office Minister David Lidington at the ICMP's laboratory in Sarajevo
The Foreign Office Minister spoke while on a two day visit to Sarajevo with the member of the Presidency of BiH Bakir Izetbegovic and advisor to other two Presidency members, Speaker and members of the BiH Parliament House of Representatives Collegium and the High Representative/EU Special Representative to BiH Valentin Inzko and Principal Deputy High Representative Roderick Moore with whom he spoke about the slow pace of government formation in Bosnia and Herzegovina and stagnation in the EU-related reforms.
Minister for Europe assessed the current political situation in BiH as a matter of a very great concern and said, 'The United Kingdom is utterly committed to the process of political reform and community reconciliation in BiH. We want to see BiH become a full member of the EU and NATO, but the drift that has been in this country, particularly since the general elections of 2010, is deeply worrying and we very strongly urge the political leaders from all communities and all political parties to demonstrate leadership, to make the compromises that are necessary for BiH to move forward. What we have seen is how through the downgrading of BiH's credit rating the lack of political progress has started to have a bad effect upon the well being of every citizen and every family in this country. It is harming people economically and obviously harms BiH's hopes for political development and joining the EU and NATO.'
He also said that a few years ago, most people would have said that BiH was on top of the list of those Balkans countries that have ambition to join the EU. Now BiH has slipped back in the queue. 'Unless we get a state level government formed that is able to demonstrate political willingness and a political capacity to drive through the changes of the constitution, the new laws on for example on state aid, census, etc. that are needed for the EU accession process to develop further, than BiH, sadly, is going to fall further behind. That is the last thing that we in London want to see happen. We remain champions of EU enlargement of BiH becoming a full member, but it does require leadership, creativity and compromise from all the leaders of this country,' said Minister for Europe.
Minister for Europe together with British Ambassador to BiH Michael Tatham visited the headquarters of the International Commission on Missing Persons (ICMP) where he saw its main laboratory where ICMP performs DNA extraction and genetic profiling of samples from human remains and of blood samples from surviving relatives.
'The International Commission on Missing Persons has applied a revolutionary and successful approach to resolving the fate of those missing from the wars in the Western Balkans and the United Kingdom is proud of its support for these efforts. ICMP's approach has been successful not only in identifying a vast number of missing persons, but in ensuring that justice is served for war crime perpetrators', David Lidington said during the visit.
Message by David Lidington
Minister for Europe concluded his visit with meeting Bosnian Minister of Foreign Affairs Sven Alkalaj to whom he presented a guidebook 'BiH@EU'. The guidebook is an outcome of the UK Government funded project. It is tailor made for the members of the BiH parliaments and offers all relevant information about the Lisbon Treaty and how it impacts BiH. The author is a Bosnian NGO 'Foreign Policy Initiative'. Ministry of Foreign Affairs will use the guidebook as a part of the training package and background documents for the BiH ministers that will be posted across Europe.
Minister for Europe David Lidington in Bosnia and Herzegovina
Published 8 June 2011