Minister for Europe discusses EU issues with Slovakian Europe Minister
Minister for Europe David Lidington met Slovakian State Secretary for Foreign Affairs, Milan Ježovica on 17 March.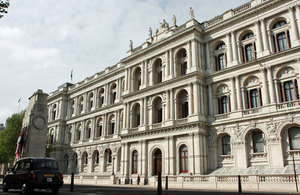 The Ministers discussed a range of EU issues, such as the EU Budget and Enlargement, and pressing foreign policy issues, including events in Libya. The Ministers discussed the role of the EU in the Western Balkans and on the Eastern Partnership, both of which are areas of close cooperation between Slovakia and the UK.
Speaking after the meeting Mr Lidington said:
"It was a great pleasure to welcome State Secretary Milan Ježovica on his first official visit to London. Our meeting has helped to strengthen further an already close working relationship between our two countries. There is a whole range of issues on which we collaborate closely, such as Enlargement, the Western Balkans and the Eastern Partnership. This meeting also provided us with an opportunity to discuss some of the wider challenges facing the EU today, such as recent events in the Middle East and North Africa, and the role of the EU in supporting the emergence of open, democratic societies."
Published 17 March 2011