Minister for Europe discusses Cyprus with The Elders
Minister for Europe David Lidington met Archbishop Desmond Tutu and Dr Gro Brundtland from The Elders at the Sofitel St James Hotel, London on 10 February.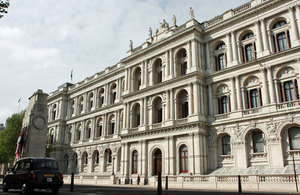 The Elders are an independent group of eminent global leaders, brought together by Nelson Mandela. Their main focus of interest is conflict situations, and since 2007 they have helped contribute to peace and reconciliation efforts in Burma, Cyprus, the Middle East, Sudan and Zimbabwe. The Group have just returned from a two day visit to Cyprus, where they met with Greek and Turkish Cypriots and discussed ways in which the peace process can best be supported by the international community.
Speaking after the meeting the Minister for Europe said:
"It is a great pleasure for me to meet with this group of esteemed international leaders, the Elders Group. It was an excellent opportunity for me to hear their impressions of the Cyprus situation following their recent visit, and to discuss their ideas as to how the international community can best support the efforts of the two leaders to find a lasting solution for the people of Cyprus. As I have said before, difficult choices will have to be made by both sides, but I very much welcome and am encouraged by the recent agreement of both leaders to consider technical support from UN experts on property issues. The UK very much hopes that such support will provide fresh thinking for negotiations on this issue, and strongly encourages further work by both parties."
Published 11 February 2011