Minister for Europe David Lidington visits Sweden
The UK's Minister for Europe David Lidington has visited Sweden to meet his Swedish colleagues and discuss current EU issues and foreign policy priorities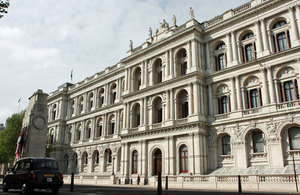 Sweden is a key strategic partner for the UK; we share common goals, views and values across a broad spectrum, from Europe to trade to defence. Sweden shares UK interests over single market, financial services, Eurozone ins and outs, enlargement and global free trade, as well as reform of the EU. UK and Sweden are also close economic and trading partners - in 2011 Sweden was UK's 10 largest export market and the UK was Sweden's 3rd largest export market. Given the breadth of the overlap, the Minister had much to talk about with his Swedish partners.
Minister Lidington discussed UK-Sweden co-operation on key EU issues, including Eurozone, Banking Union, Multiannual Financial Framework (MFF) and Future of Europe with EU Minister Birgitta Ohlsson. In his meeting with Foreign Minister Carl Bildt he discussed foreign policy issues, including Iran, Syria and Russia, as well as the EU's Eastern partnership, particularly Ukraine and Belarus, and EU enlargement with focus on Western Balkans and Turkey. Focus for the Minister's meeting with State Secretaries from the Prime Minister's Office and the Finance Ministry was key EU economic/financial issues, such as Eurozone, Banking Union and MFF.
The Minister also spoke at UI/The Swedish Institute of International Affairs on the future of Europe and how the EU can develop politically, economically and institutionally:
"Membership of the euro is not an essential part of what it means to be an EU member. We want a Europe that respects its diversity; members that want to integrate on different subjects. We need arrangements that ensure EU institutions are accountable to and work for all member states, not just a subset of member states. There is now a sub-debate on what architecture is right for a more diverse EU. We need to make it possible for the EU to develop in a way that recognises member state diversity. For that we do not need to change treaties but apply subsidiarity."
"It is in UK's interest to be an active member of the EU, for example for the single market, the single voice in trade and foreign policy co-operation. How effective member states such as the UK and Sweden can be outside the Eurozone, depends in part on culture and in part on rules in the EU, and the treaties. We must safeguard the single market of the 27 in the treaties. There are many like-minded groups on issues that do not follow this divide, e.g. on the single market or on trade. All member states must be treated on an equal basis."
Before returning to London Minister Lidington met the visiting Prime Minister, Foreign Minister and EU Minister from Kosovo.
Published 2 October 2012