Minister for Europe congratulates Macedonia on 10th Anniversary of Ohrid Framework
Minister for Europe David Lidington welcomed the 10th anniversary emphasising the Agreement's potential to make a continued contribution to strong and constructive inter-ethnic relations in the country.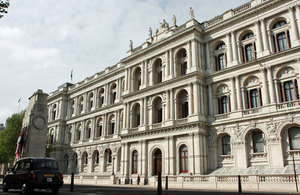 Speaking today the Minister for Europe said:
"I would like to congratulate the people of Macedonia on the occasion of the tenth anniversary of the Ohrid Framework Agreement.
"This inspiring document has paved the way for a decade of peace in Macedonia, and importantly has provided a generation with a set of values to which future generations can aspire. Tolerance, inclusion and respect for the human rights of all minorities, indeed of all people, are hallmarks of a peaceful, democratic and forward-looking society.
"I know from my visit last year to Macedonia how much the Ohrid Framework Agreement can offer in terms of the country's European Union perspective. I see the Framework as having the potential to underpin and mutually reinforce many of the necessary EU reforms. I hope that Macedonia will embark on the next ten years, 'a Second Decade', with vigour, conviction and with the broadest possible support from Government, politicians from all parties and from within civil society. The next ten years provides opportunities to deepen implementation of the Agreement so that it can further become a concrete realisation of the aspirations of its founders.
"The anniversary represents a milestone in Macedonia's history. The United Kingdom remains a strong and friendly supporter of the country's EU-NATO ambitions and desire for a secure and prosperous future."
Search the news archive
Published 15 August 2011