Minister for Counter Proliferation comments on arms export report
Speaking about the Parliamentary Committee on Arms Export Controls Annual report, which will be published on 13 July, FCO Minister for Counter Proliferation, Alistair Burt, said: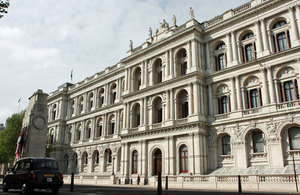 "The Government welcomes this report, which sets out a number of recommendations and judgements about the Government's policies and performance on arms exports.
"The Government intends to respond in detail to the report in due course, as is the usual practice. Indeed, the Government's own Annual Report on Strategic Export Controls will also be published on 13 July and already addresses a number of these issues.
"However, I would like to respond directly to the CAEC's recommendation that the Government "should apply significantly more cautious judgements on the export of arms to authoritarian regimes which might be used for internal repression."
"The Government agrees that we must take proper account of the concerns and risks associated with strategic exports. Indeed, it is our strict policy to do so. As we have consistently said, and the CAEC repeats, we do not and will not issue licences where we judge there is a clear risk that the proposed export might provoke or prolong regional or internal conflicts, or where it might be used to facilitate internal repression.
"The UK has a rigorous export licensing procedure. We look at each application on a case by case basis. In each case we assess the export against the Consolidated EU and National Arms Export Licensing Criteria. This process includes a thorough risk assessment, and regular consultation of Ministers, especially in cases involving regimes of concern of the nature highlighted by the CAEC.
"As the CAEC notes, following the Arab Spring, the Government reviewed its arms exports policy to countries in the Middle East and North Africa. This resulted in additional Ministerial scrutiny of exports to those countries. As a result 158 export licences were revoked.
"However it is wrong to allege that in the run-up to the Arab Spring UK export controls were lax. When the licences in question were issued, they were properly assessed in light of the prevailing circumstances. Once the circumstances changed, the risk was reassessed and licences were revoked. This is evidence of a system that is working, not failing. There is no evidence that equipment supplied by the UK was used to facilitate internal repression during the Arab Spring.
"The CAEC also recommends that we extend the review to countries of concern outside the Middle East and North Africa. But in speaking about the scope of the review in his evidence to the CAEC earlier this year, the Foreign Secretary has already made clear that: "there is no limit to its geographical scope. Every kind of regime and every kind of country is captured in this review." It would therefore be wrong to infer that we are failing to pay appropriate Ministerial attention to exports to all countries of concern, whether in the Middle East or elsewhere."
Published 13 July 2012