Press release
Minister for Asia condemns DPRK nuclear test
Mark Field summoned the North Korean ambassador to condemn 3 September's nuclear test.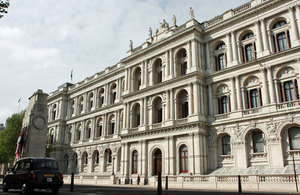 Following North Korea's sixth nuclear test on 3 September, Minister for Asia & the Pacific Mark Field summoned the DPRK Ambassador to the Foreign & Commonwealth Office.
Following the meeting, Minister Field said:
I summoned the North Korean Ambassador to the Foreign Office to make clear the UK's condemnation of the DPRK's nuclear test on 3 September.

North Korea's reckless actions have created a deeply dangerous and unstable situation. The UK will work with our partners and allies to tackle this threat.

I urge the regime to end its illegal pursuit of nuclear and ballistic missiles and return to dialogue with the international community.
Further information
Published 5 September 2017