Minister for Africa's statement on Nairobi attacks
Minister for Africa Henry Bellingham's statement on the recent attacks in Nairobi.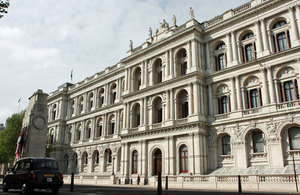 On hearing about the attacks which took place in Nairobi on 13 June at a rally, Minister for Africa, Henry Bellingham said:
"I was saddened to hear of the explosions that took place on Sunday 13 June at a rally in Nairobi. On behalf of the British people, I send my heartfelt sympathies to the families and friends of those who lost their lives, and wish a full and speedy recovery to those who were injured.
"The UK condemns all such acts of violence. We will stand with Kenya in fighting such destructive acts. We continue to encourage Kenyans to follow a peaceful and inclusive political process ahead of its constitutional referendum in August. This process is important to help get Kenya back on track following the 2007/ 08 post-election violence, ensuring a bright future for the country and protecting the stability of the wider region."
Published 14 June 2010