Minister for Africa welcomes strategic energy partnership in Côte d'Ivoire
British company is awarded major energy contract in Abidjan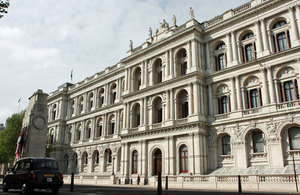 Minister for Africa Mark Simmonds MP said:
"I am pleased to announce that the Government of Cote d'Ivoire has awarded a significant contract to the British company Aggreko to build, own and operate a 100MW gas power-plant at the Vridi site in Abidjan. This is yet another major landmark contract for Aggreko, which underlines their position as a strategic partner for Co?te d'Ivoire and one of the principal suppliers of power across Africa.
"Aggreko were the power provider for the London Olympics and Paralympics, which was attended by His Excellency President Ouattara, other Ivorian Ministers and senior officials. The UK has demonstrated its commitment to Co?te d'Ivoire since President Ouattara and his government's election in May 2011. This includes re-opening the British Embassy in May 2012 and the launch of new visa service in Abidjan last week, when the Minister for Mines, Oil and Energy was our first VIP customer.
"Increasing bilateral trade and investment is critical to Co?te d'Ivoire's future prosperity. The Minister, Ministry, CIEnergies and other agencies are leading the campaign to re-establish Co?te d'Ivoire as an economic powerhouse in the region. Energy is an essential component. The UK will continue to deepen our cooperation with the Minister, Ministry and their agencies to help Co?te d'Ivoire to achieve its full potential as an attractive, competitive place for quality investment.
"The granting of this contract to Aggreko indicates the strengthening of our ties and ensures that the UK will continue to be a strategic partner in Co?te d'Ivoire's future success."
Published 19 November 2012