Press release
Minister for Africa visits South Sudan
Minister for Africa urges further progress on peace agreement beginning with formation of Transitional Government of National Unity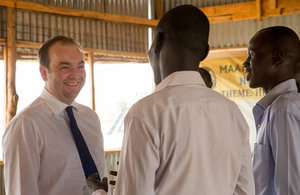 James Duddridge, Minister for Africa, made his first visit to South Sudan on 25-26 January. The Minister met with President Kiir, Foreign Minister Barnaba, Finance Minister Deng and SPLA-IO Chief Negotiator Taban Deng. Mr Duddridge also met with representatives from civil society and members of the diplomatic community who have been supporting the peace agreement. In his meetings the Minister emphasised the UK's desire to see the peace agreement fully implemented and urged the formation of the Transitional Government of National Unity without further delay.
The Minister visited an UN Protection of Civilians camp and an UK Aid supported girls' school to see how the UK is helping to provide practical support on the ground. The UK is committing long term support to the South Sudanese people, along with emergency humanitarian assistance, to help the country recover after two years of conflict. Beginning this year, the UK is also committing over 250 UK military personnel to the UN Mission in South Sudan so it can more effectively support peace and security.
At the end of his visit Mr Duddridge said:
I was pleased to be able to visit South Sudan at such an important time and made clear to South Sudan's leaders that the Transitional Government of National Unity must be formed without further delay. All South Sudan's leaders bear a responsibility to their people to implement the peace agreement fully so the long and difficult task of rebuilding the country can begin. The UK has a long term commitment to South Sudan and we will continue to work towards the peaceful and prosperous future its people deserve.
Further information
Published 26 January 2016