Minister for Africa meets President of Co?te d'Ivoire
Minister for Africa Henry Bellingham met President Ouattara of Co?te d'Ivoire on 28 July.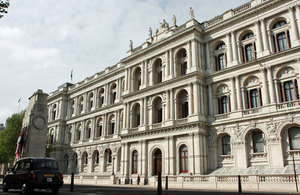 The UK's Minister for Africa, Henry Bellingham, met H.E. President Ouattara on 28 July. The discussion focussed on a range of bilateral issues, including peace and security, prosperity and regional matters. The Ivorian Minister for Foreign Affairs, H.E. Mr Daniel Kablan Duncan, and the Ivorian Ambassador to the UK, H.E. Mr Claude Bouah-Kamon also attended.
Speaking after the meeting Mr Bellingham said:
"I am delighted to be able to welcome President Ouattara to the UK. We had a fruitful discussion covering a range of bilateral issues of mutual interest to the UK and Co?te d'Ivoire. The UK has worked closely with President Ouattara and his government since his election, and we will continue to do so in the years ahead."
Published 28 July 2012