Minister for Africa meets future of East African journalism
Minister for Africa Henry Bellingham welcomes two winners of the David Astor Journalism Awards to the Foreign and Commonwealth Office.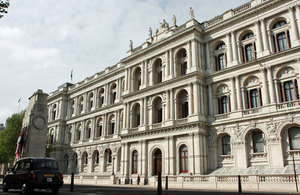 Kenfrey Kiberenge, from Kenya, and Yasiin Mugerwa, from Uganda, have spent the last eight weeks working at some of the most well known newspapers in the UK including the Times, The Independent and The Observer.
The David Astor Awards support the development of journalistic excellence in Kenya, Uganda and Tanzania by providing scholarship opportunities to the next generation of journalists. As well as providing an invaluable learning opportunity, the awards help to build a network of the best and brightest journalists across Africa creating a firm foundation for the future of news media on the continent.
Kenfrey Kiberenge has been a journalist since 2008 during which he has worked for the Kenyan newspapers the People's Daily, the Daily Metro, and the Standard. Yasiin Mugerwa has been the Chief Parliamentary reporter at the Ugandan national Daily Monitor since 2006.
Both Kenya and Uganda have a vibrant and active media but some journalists in these countries and the region continue to face serious challenges. Many journalists have also fled to Uganda and Kenya from neighbouring states, such as Somalia and Rwanda, because of the threat of intimidation and violence. The UK strongly believes that freedom of expression is a universal human right and that the press must be allowed to operate free of undue interference. This is why we will continue to press governments to ensure they meet their international obligations to protect the rights of the press to operate freely.
They discussed a number of issues during the meeting including freedom of the press and working as journalists in their home countries. Kenfrey and Yasiin demonstrated an impressive grasp of the key issues affecting both their countries and a keen interest in the UK's engagement in the region.
Speaking after the meeting, Mr Bellingham said:
"I was pleased to meet these two exceptional young journalists who are already contributing to good governance and transparency in their respective countries.
"Quality journalism is essential for the success of any democratic society and carries with it enormous responsibilities. A free, active, and professional media informs and empowers citizens to hold their governments to account. I was impressed by the integrity and dedication of Kenfrey and Yasiin and I hope they will be able to make good use of the valuable experience they have gained in the UK."
Published 1 August 2012