Press release
Minister for Africa joins African leaders in fight against sexual violence in conflict
Mr Duddridge joined AU Foreign Ministers, William Hague and Angelina Jolie Pitt to discuss women's action against sexual violence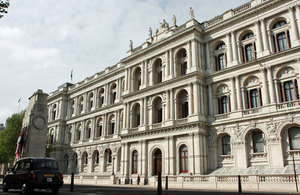 The Minister for Africa, James Duddridge, met members of the African Union High Level Panel on Gender Equality and Women's Empowerment to discuss priorities in the fight to achieve transformational change for women and girls in Africa.
The meeting follows the Minister's discussions with foreign ministers as part of the African Union Summit in Johannesburg. Mr Duddridge thanked partners for their work as part of the Prevention of Sexual Violence in Conflict Initiative founded by former Foreign Secretary William Hague and UN Special Envoy Angelina Jolie Pitt, and discussed shared priorities for future progress.
Following the meeting, the Minister said:
Across Africa, women and girls continue to bear the brunt of armed struggle, and are marginalised in the process of rebuilding peaceful societies.

As a global leader in the fight for equality, the UK stands firm alongside the African Union's efforts to strengthen women's rights and enforce a zero-tolerance policy towards sexual exploitation and abuse. The High Level Panel is at the heart of the fight to achieve the empowerment of women across Africa.

Since hosting the Global Summit to End Sexual Violence in Conflict in London last June, the UK has worked alongside partners in Africa to champion this work. We have deployed members of the UK Team of PSVI Experts to Mali and the DRC, strengthening the work of local human rights defenders, judges, the military, police and heath care professionals. The British Peace Support Team in Kenya has provided training to over 100 military personnel due to be deployed on UN and AU peacekeeping missions.

The appointment this week of Baroness Anelay as the Prime Minister's Special Representative for Preventing Sexual Violence in Conflict reaffirms the UK's leading role in this global struggle".
Further information
Published 12 June 2015