Minister for Africa comments after meeting with Rwanda's President Paul Kagame
Minister for Africa, Mark Simmonds, arrived in Kigali today for meetings following the joint communiqué agreed by Presidents Museveni, Kagame and Kabila yesterday in Uganda.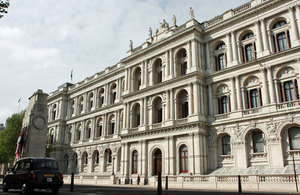 Following his meeting with His Excellency President Paul Kagame, Mr Simmonds said:
"I welcome the leadership shown by the regional Presidents at their meeting in Kampala yesterday. The joint communique on 21 November from the Ugandan, Rwandan and Congolese Presidents, demanding the withdrawal of the M23 from Goma, is a strong message from the region's leaders that the M23 should not ignore. The communique also set out two other crucial principles: that there can be no attempt to unseat the legitimate government of the Democratic Republic of Congo (DRC), and that the government of the DRC should address the underlying causes of the conflict.
"The communique must now be translated into action. In my meeting today with President Kagame and Foreign Minister Mushikiwabo I urged them to continue in this vein. I will continue to impress this upon all whom I meet over the coming days.
"I call on the M23 to stop its advance and to withdraw from Goma immediately. This would benefit the people of the DRC, and is the will of the governments of the region, and the whole international community."
Published 22 November 2012