Minister for Africa attends African Union Summit
Minister Henry Bellingham has been in Equatorial Guinea, meeting Foreign Ministers from across Africa.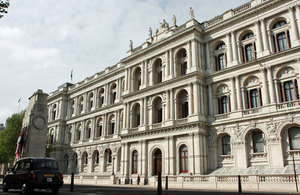 Minister for Africa, Henry Bellingham has been attending the African Union Summit which is taking place in Malabo, Equatorial Guinea.
The African Union Summit is an opportunity for UK Ministers to meet their counterparts from across Africa to discuss UK priorities and interests.
Mr Bellingham has held discussions with Foreign Ministers on Libya, Sudan and Somalia. The African Union has a vital role to play in tackling the crises on the continent and the UK supports its members to promote peace, security and prosperity across Africa.
Published 1 July 2011