News story
Minister encourages students to make their voices heard in Mayoral elections
Chris Skidmore has met students in the Tees Valley to encourage them to register to vote ahead of the inaugural mayoral election on May 4.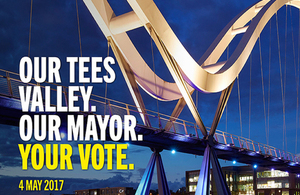 The Minister for the Constitution spoke to students from Middlesbrough college today about how they can raise awareness of voter registration in the lead up to the election for the first mayor of Tees Valley.
Students engaged in lively discussion with the minister on what democracy means to young people living in the North East of England.
Chris Skidmore, Minister for the Constitution, said:
I was impressed by the level of debate and interest shown by Middlesbrough's college students today. This government is committed to a democracy that works for everyone and this means understanding the needs of young people, and other under-registered groups, on their own terms.
Over the coming months, people across Middlesbrough will be canvassed by different parties in the lead up to the election for the first mayor of Tees Valley. This is an exciting time in your local history and it's crucial you register to vote so you can have your say. Whoever you are, whatever your background, wherever you live - your voice matters.
Zoe Lewis, principal and chief executive of Middlesbrough College, said:
The Tees Valley Mayoral election is a massive opportunity for young people to have a say on the future of our area.

Those eligible and registered to vote will determine a figurehead for the Tees Valley who will lead the creation of high quality jobs, the provision of transport and access to affordable housing, among other things.

The chance for our students to directly question a Minister is fantastic way to help them build their understanding of this historic vote.
Andrew Lewis, Managing Director of the Tees Valley Combined Authority said:
The new Tees Valley Mayor will have powers to decide on issues that impact our daily lives – including opportunities for young people; our road, rail and bus services; and bringing new jobs and investment into our area.

It's important everyone's voice is heard. This is a new opportunity to elect someone who is accountable locally, for decisions previously taken by politicians and civil servants in Whitehall and Westminster.
We are encouraging every eligible person to register to vote, find out more about the candidates, and be sure your vote is counted on 4 May.
 Further information
The Minister is visiting Middlesbrough as part of his Every Voice Matters Tour. The tour will see him visit every part of the country to understand how to tackle barriers to voter registration. As part of his trip to Tees Valley, the Minister also visited Darlington where he met with a group of young people not in employment or in education to discuss what barriers they face to engage in the democratic process.
Published 16 March 2017