News story
Minister encourages further support for Syrian resettlement scheme
Minister for Syrian Refugees encourages continued involvement from local authorities in the East Midlands.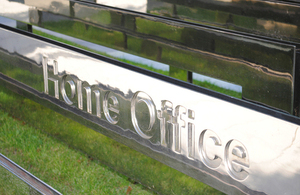 The Minister for Syrian Refugees, Richard Harrington, praised local authorities and encouraged more to come forward and support Government plans to resettle Syrian refugees, during a speech in Nottingham yesterday (11 February).
Speaking at a conference in Bio City, the Minister thanked local authorities and partner organisations in the East Midlands for participating in the Government's Vulnerable Persons Resettlement Scheme (VPRS), and helping to resettle Syrian refugees in the UK.
Yesterday's event was part of a series of regional conferences taking place across the UK this year.
The conference, which is in support of the Government's pledge to resettle up to 20,000 Syrians in need of protection during this Parliament, was an opportunity to share best practice in helping to resettle refugees, update on the progress of VPRS, as well as encouraging support from local authorities who are not yet participating in the scheme.
Richard Harrington, Minister for Syrian Refugees said:
I am proud to lead our nation's resettlement programme and thrilled that we have already begun to deliver on our promise – with over 1,000 Syrian refugees resettled by the end of 2015.

This has been made possible by an incredible amount of effort and support from local authorities from the East Midlands and across the UK.

There is still a great deal of work to do as we offer protection and a new start to a total of 20,000 vulnerable Syrians over the course of this Parliament.

The ongoing support and co-operation of local authorities, NGOs and others will be essential as we expand the resettlement scheme further in the coming months.
Yesterday's event was chaired by Dr Stuart Young, Executive Director of East Midlands Councils, and attended by around 100 people including 10 local authority leaders or cabinet members and senior local government officers from local authorities in the East Midlands.
Also present were representatives from partner groups including Clinical Commissioning Groups, local and national Voluntary and Community Sector/Non-Governmental Organisations.
The attendees heard from John Robinson, Chief Executive of Gedling Borough Council who shared the council's experience of settling Syrian refugees ahead of Christmas, and Amaf Yousef, Refugee Support Coordinator, of the Syrian Charities and Networks UK, who explained how the resettlement programme operates from the perspective of a Syrian refugee.
Published 12 February 2016