Minister congratulates happy couples on the fifth anniversary of civil partnerships
The fifth anniversary of the introduction of civil partnerships is being celebrated today (Tuesday, December 21).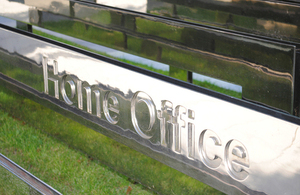 More than 80,000 people have tied the knot since the ceremonies were introduced in 2005.
These include celebrity couples Elton John and David Furnish; John Barrowman and Scott Gill; Alan Cumming and Grant Shaffer; and Clare Balding and Alice Arnold.
Equalities Minister Lynne Featherstone said: 'Civil partnerships have been more successful than any of us dared to imagine, and I'm delighted to see that more than 40,000 lesbian and gay couples have made a formal, legal commitment to each other over the past five years. I especially want to send congratulations to all the couples celebrating their fifth anniversaries today.'
As well as benefiting the couples who have registered their unions, the introduction of civil partnerships has helped make a real, positive change in the way society thinks about lesbian, gay and bisexual people. As a Government we're committed to building on this progress, which is why we're currently looking at what the next steps for civil partnerships could be.'
Latest figures
The latest yearly figures show The London Borough of Westminster as the local authority with the largest number of civil partnerships with 182 male couples and 60 female couples getting hitched in 2009.
Statisticians have also discovered that those entering into a civil partnership are in average 10 years older than straight couples. For men forming a civil partnership the average age is 41.2 years against 32.1 for straight men getting married and for women it is 38.9 years against 29.9. 
The fifth anniversary of Civil Partnerships also saw the launch of a legal bid to change the current law. Campaigners who want to see gay couples given the right to have civil marriages and straight couples allowed to have civil partnerships are planning to take their case to the European Court of Human Rights.
Published 21 December 2010