News story
Minister completes ECSAT's highest point
Minister for Universities, Science and Cities visits ESA's new ECSAT building to complete the topmost concrete slab.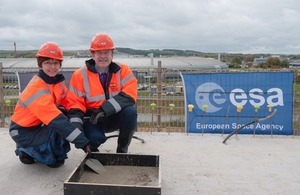 On Thursday 23 October, Minister for Universities, Science and Cities Greg Clark joined Magali Vaissiere, Head of the European Space Agency's ECSAT (European Centre for Space Applications and Telecommunications), in completing the topmost concrete slab of its new building on the Harwell Oxford campus.
Magali Vaissiere invited the Minister to the construction site of ECSAT's new "Roy Gibson" building for an exclusive look at the progress made. The building is on track for completion in mid-2015, and a special ceremony called 'topping out' was organised to mark the highest point of the building being reached. The Minister and Magali Vaissiere completed the ceremony together by laying the final trowel of cement in the presence of the UK Space Agency's Chief Executive David Parker.
ESA's presence in the UK is a clear sign that it is supporting the increased importance given to space by the UK government. The latest UK Space Agency study into the progress of the UK space sector revealed that it continues to soar, and is currently worth £11.3 billion to the UK economy, employing over 34 000 people and supporting a further 65 000 jobs in other sectors.
ECSAT (the European Centre for Space Applications and Telecommunications) is the most recent addition to ESA's operational sites across Europe and was first opened in 2009 in the UK. Further agreements reached between the UK and ESA in November 2013 have ensured its continued development. It is home to ESA teams from telecom and integrated applications, science and exploration, technology and quality management support as well as the Earth observation Climate Office.
ECSAT supports activities related to telecommunications, climate change, technology, science and 'integrated applications' – the combined use of different space and terrestrial technologies, data and infrastructures to create new everyday applications. The development of innovative public–private partnerships will be emphasised.
Published 5 November 2014