Minister cements UK-South Korea relationship
Foreign Office Minister Hugo Swire is visiting South Korea this week to reinforce strong links with the UK.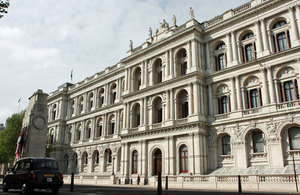 The visit aims to build and enhance commercial ties between the two countries, and the Minister is meeting a number of UK and South Korean businesses to support increased trade.
Alongside Minister Yu Woo-ik from the Ministry of Unification, Mr Swire will then meet a number of key South Korean Ministers to discuss issues including North-East Asian Security and international foreign policy.
The Minister will also launch the 2012 English for the Future programme, a scheme offering English language courses to new settlers of North Korean origin in South Korea.
Ahead of the visit, Mr Swire said:
"I am delighted that my first visit to Asia as a Foreign and Commonwealth Office Minister is to South Korea. It is a close ally and an extremely important commercial partner. The wide selection of South Korean Ministers I am meeting shows the depth and diversity of the interaction. While the political and commercial links between South Korea and the UK are already strong, I am absolutely committed to making them even stronger."
Published 15 October 2012