Minister Burt concludes his visit to Egypt
UK Foreign and Commonwealth Minister for the Middle East and North Africa Alistair Burt has concluded his two-day visit to Egypt.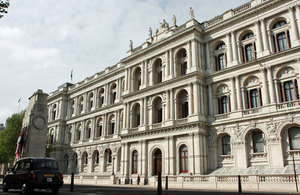 During his visit Mr Burt had a series of meetings with officials, possible presidential candidates and spent time at the Egyptian Paralympic team village.
The Minister began the first day visiting the Egyptian Paralympic team at their training ground in Maadi. Following meeting the head of the Paralympic Committee, Dr. Ashraf Marie, the Minister met some of the Egyptian Paralympic weightlifting and table tennis teams. He also enjoyed a game of table tennis with the athletes and remarked after his visit that, 'The Egyptian Paralympic team are an inspiration to us all'.
Before meeting staff at the Embassy in Cairo the Minister was invited to make the opening remarks at a seminar on doing business and increasing UK investment in Egypt. The seminar was part of a program for the UK Technology and Communications sector trade mission that was visiting Egypt at the same time.
The Minister then made official calls on Foreign Minister Kamel Amr and Arab League Secretary-General Al Araby. The ongoing crisis in Syria was discussed and they shared views on Palestinian issues, Libya and Iran.
Minister Burt also had the opportunity to meet the major Egyptian party leaders and met possible presidential candidates Amr Moussa and Abu El Fotouh. They discussed a wide range of topics including internal and bilateral issues as well as Syria and Israel.
Speaking about his visit earlier this week, the Minister said: "This is my third visit to Egypt and I am optimistic as Egypt goes through this transition to democracy which we support. We look forward to successful presidential elections like the parliamentary one in Egypt. We are committed to supporting Egypt and are happy to see that there are economic recovery indications.
Pictures from the visit.
Search the news archive
Published 14 March 2012