News story
Minister announces further investment in marine renewables during Wave Hub visit
Mr Prisk, who kicked off a two-day tour of Cornwall, said the additional £1.5 million grant from the RDA would allow wave energy company Ocean…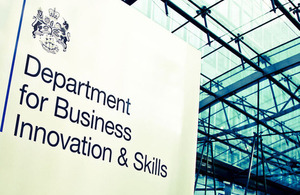 Mr Prisk, who kicked off a two-day tour of Cornwall, said the additional £1.5 million grant from the RDA would allow wave energy company Ocean Power Technologies Ltd (OPT) to develop a larger version of its 'Powerbuoy' wave energy device.
It follows an announcement by the Government-backed Technology Strategy Board last week of a £7 million investment in nine projects aimed at developing wave and tidal technologies of the future.
OPT is the first company signed up to use Wave Hub, which is a £42 million project to create the world's largest test site for wave energy technology, off the north coast of Cornwall.
Wave Hub is being installed on the seabed over the course of the next few weeks and is a cornerstone of the UK's ambition to grow a world-class marine energy industry.
Mr Prisk said: "This ground-breaking Wave Hub project is evidence of British engineering and offshore expertise - almost 80% of the value of contracts awarded so far have gone to UK businesses.
"The UK is already leading the way in marine energy, with 25% of the world's wave and tidal technologies being developed here. This is a huge opportunity for UK business - the sector could be worth £2bn by 2050 and it has the potential to create up to 16,000 jobs by 2040.
"But this is a young industry and it needs support to realise that potential. That's why Government is continuing to provide £18.5m of support for marine projects here in the South West. Today's investment in OPT is further evidence of that commitment"
During his visit the Minister was briefed by the RDA on the progress of Wave Hub, and plans to invest £15 million - including £5 million from central Government - in major infrastructure improvements around Hayle Harbour, to support the development of a new marine energy business park, creating up to 200 jobs.
Stephen Peacock, Executive Director for Enterprise and Innovation at the South West RDA, who escorted the Minister on his visit to Wave Hub, said: "This was a great opportunity to brief the Minister on progress with Wave Hub, and for him to meet some of the many businesses and academics involved in developing a marine renewables industry here in the South West."
OPT, based in Warwick, is developing a scaled-up 500kW version of its existing 150kW Powerbuoy wave energy device, which converts the power of the waves into electricity. It will be working with A&P Falmouth and the Peninsula Research Institute for Marine Renewable Energy - a collaboration between the Universities of Plymouth and Exeter - during the development phase. The company also hopes to deploy a 150kW version of Powerbuoy at Wave Hub.
Angus Norman, chief executive of OPT, said: "This award is a tremendous endorsement of OPT's technology and more than six year's research and manufacturing investment by the company in the UK. We share the Government and the RDA's vision that the UK has a unique opportunity to leverage its geographic location and engineering expertise to harness wave power for abundant, safe and renewable energy as well as a source of new jobs and industrial regeneration. We also believe our next generation PB500 PowerBuoy will be competitive in larger production volumes with fossil fuel-based energy."
Mr Prisk's two-day trip to Cornwall also includes visits to the Combined Universities in Cornwall campus at Tremough, the newly opened Pool Innovation Centre and marine engineering company Fugro Seacore in Falmouth.
Notes to Editors
The Government's £18.5m package of support for the marine energy sector includes £9.5m of funding towards the Wave Hub project; £5m of BIS support for infrastructure to unlock the Hayle marine renewables business park and a £4m investment towards the Marine Building on the University of Plymouth Campus as part of the Plymouth Science and Innovation Programme.
Wave Hub is a major marine renewables infrastructure project that will create an electrical 'socket' on the seabed in some 50 metres of water around 16kms (10 miles) off the coast of Cornwall in South West England and connected to the National Grid via a subsea cable. Groups of wave energy devices will be connected to Wave Hub and float on or just below the surface of the sea to assess how well they work and how much power they generate before being commercially produced and deployed. There are four berths available at Wave Hub, each covering two square kilometres. Wave Hub will have an initial maximum capacity of 20MW (enough electricity to power approximately 7,000 homes) but has been designed with the potential to scale up to 50MW in the future. The first wave energy devices are expected to be deployed in 2011.
Wave Hub is being funded with £12.5 million from the South West RDA, £20 million from the European Regional Development Fund Convergence Programme and £9.5 million from the UK government.
The £15m infrastructure project at Hayle to enable the development of a Marine Renewables Business Park involves spend of £5m from BIS, £5 from Cornwall County Council and £5m from European Regional Development Fund.** Planned infrastructure developments include a new bridge; construction of a new road; flood protection works and restoration of harbour walls. **
The** Plymouth Marine Building **on the University of Plymouth Campus will house the new PRIMaRE (Peninsula Research Institute for Marine Renewable Energy) funded wave tank testing facilities, and will enable collaboration between researchers and entrepreneurs.
BIS' online newsroom contains the latest press notices, speeches, as well as video and images for download. It also features an up to date list of BIS press office contacts. See http://www.bis.gov.uk/newsroom for more information.
Notes to Editors
Contact Information
Name BIS Press Office Job Title
Division COI Phone
Fax
Mobile
Email NDS.BIS@coi.gsi.gov.uk
Name Una Flynn Job Title
Division Department for Business, Innovation and Skills Phone 020 7215 5256 Fax
Mobile
Email Una.Flynn@bis.gsi.gov.uk
Published 29 July 2010