Mineral deposits can help lift Afghanistan out of poverty
Deposits of minerals in Afghanistan such as iron, copper, gold, silver, platinum, as well as oil and natural gas, have the potential to help lift the country out of poverty.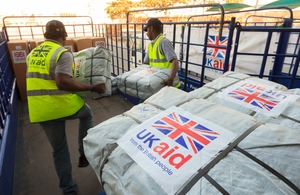 This morning, Mark Lowcock, DFID's director general for country programmes, addressed the first International Symposium on Mineral Sector Opportunities in Afghanistan, to raise the profile of investment opportunities in the country.
He outlined how the Government of Afghanistan can use the deposits, currently valued between $1 trillion - $3 trillion, to raise domestic revenue and provide security, employment and access to basic services for their people.
He urged those international investors assembled to get involved.
"The UK government, through DFID, is helping to provide a comprehensive reform programme in minerals governance to create a stable, business-friendly policy and regulatory environment that encourages private investment. Gross domestic product growth in the country reached 22% last year.
"With the establishment of a favourable investment environment, we strongly encourage the global mining community to take full advantage of the economic opportunity in Afghanistan.
"By investing in Afghanistan you can all be part of the international effort to create a safer Afghanistan for all."
The symposium was hosted by Afghan Minister for Mines, Min Sharahni, and chaired by Sir Hilary Synnott, former British high commissioner in Pakistan and deputy high commissioner in India. The audience included members of the international mining and business community.
Earlier in the week, Mr Shahrani and his delegation met with International Development Secretary Andrew Mitchell and FCO Minister Alistair Burt, and held discussions underscoring the UK's commitment to helping the Afghan government to improve the business climate in Afghanistan and encourage inward investment to help harvest the country's mineral wealth to the benefit of the Afghan people.
Published 25 June 2010