Minehunter HMS Brocklesby heads for the Med
Portsmouth-based Royal Navy minehunter HMS Brocklesby set sail on Monday, 31 January 2011, for a six-month NATO mission in the Mediterranean.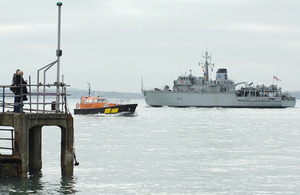 She will work alongside mine countermeasures vessels from Poland, Belgium, Germany, the Netherlands, Canada and Italy throughout western Europe and North Africa.
The ships are part of a permanent standby reaction force in the area and will also carry out live mine disposal operations and joint exercises.
HMS Brocklesby's Commanding Officer, Lieutenant Commander James Byron, said:
The Royal Navy's enduring commitment to NATO tasking is a very important one and one that my crew are taking great pride in.
After a successful period of generation, we are now at a high standard and are well prepared for the challenges we may encounter whilst deployed.
This deployment is an excellent opportunity to work with our European NATO colleagues and an excellent chance to learn from shared experiences and allow us all to contribute to regional security.
Brocklesby is due to return to Portsmouth in July 2011.
Published 1 February 2011