Mine Awareness Day: UK backs lifesaving mine action
Britain reaffirmed its support for mine clearance work today to mark the UN's International Day of Mine Awareness.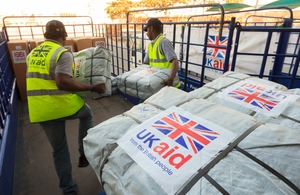 Landmines and explosive remnants of war continue to kill and maim approximately 4,000 people a year in over 80 countries or territories, primarily in Africa, Asia, Central America, the Middle East and the Balkans.
They affect development by making land and other renewable resources unusable for growing food or generating income, and blocking market routes and infrastructure development projects.
Landmines and explosive remnants of war jeopardise efforts to improve health, education and poverty and therefore prevent countries achieving the Millennium Development Goals.
Welcoming the United Nations International Day for Mine Awareness, Secretary of State for International Development Andrew Mitchell, said:
The UK supports mine action projects in many affected countries around the world. I saw for myself the impact of this vital work while on a visit to Somalia.

Mine action entails more than removing landmines from the ground. It includes actions ranging from teaching people how to protect themselves from danger in a mine-affected environment to advocating for a mine-free world.

We're proud to support the incredible work of British organisations such as the HALO Trust and Mines Advisory Group (MAG), as well as other international actors, such as the UN's Mines Action Team.
Following the conflict in Libya, UK aid has helped the Mines Advisory Group (MAG) to clear explosive remnants and teach people about the dangers of unexploded ordnance - including grenades and ammunition - that still pose a threat to thousands of people across the country.
In Afghanistan, Britain is supporting the HALO Trust to clear mines laid during the conflict with Russia in the 1980s. The ongoing work means local farmers in Herat are able to reclaim vast swathes of fertile land - once made a no-go area by the dangerous explosives - and begin to grow their crops once more.
Find out more about our work on mines and mine action.
Published 4 April 2012