Press release
Millions of commuters benefitting from Government's free Wi-Fi on public transport
More than 100,000 users in Cardiff and Newport benefiting from scheme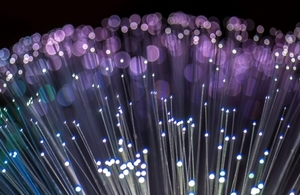 The journey to work for millions of commuters across the UK has been improved thanks to free Wi-Fi having been installed on buses, trains and trams as part of the Government's SuperConnected cities initiative.
More than three million unique users are making regular use of the service, using the freely available Wi-Fi to grab the latest news headlines, check the weather, browse the Internet, send emails and use social media on their daily commute.
Hundreds of buses and trams in nine cities across the UK (Leeds, Bradford, Oxford, Manchester, Salford, York, Edinburgh, Cardiff and Newport) have been equipped with free public Wi-Fi. The latest usage figures, published today, highlight the scheme's popularity.
In Wales, commuters in Cardiff and Newport have welcomed the scheme which is now up and running in both cities. In Cardiff, free Wi-Fi is now available on 224 buses and there are 112 buses in Newport now offering the service. There have been more than 1,100,000 user sessions in Cardiff alone to date, with users spending an average of around 23minutes online each time they log on.
Wales Office Minister Alun Cairns said:
People in Wales rely on access to a reliable internet connection wherever they are – not only to do business, but to shop, bank and to stay in contact with friends and family.

Providing high quality internet access is fundamental to the growth of our economy. Through this government's innovative scheme, passengers using Cardiff and Newport's bus systems can travel around the city and stay connected. This is part of our ambition for Wales to be a part of a world class connected country and a great place to do business.
As well as providing free public Wi-Fi on public transport, the Superconnected Cities programme saw free public Wi-Fi installed in more than 1,000 buildings in 22 cities across the UK. The programme was designed to help cities develop the digital infrastructure they to remain internationally competitive and attractive places to invest, visit and do business.
Published 30 September 2015