Military torchbearers carry the Paralympic Flame
A small team of military personnel will tonight carry the Flame in the final leg of the London 2012 Paralympic Games Torch Relay. Report by Lorraine McBride.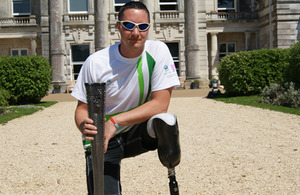 With just hours to go until the Paralympic Games begin, a team of military personnel (past and present) will join inspirational people from across the UK to light the way to the Paralympic Games by carrying the Paralympic Flame from Stoke Mandeville on its final leg to the Olympic Park.
One torchbearer is Major (Ret'd) Martin Colclough who will lead a team in the Paralympic Torch Relay comprising Battle Back founder Colonel Fred Hargreaves, Staff Sergeant Matt Raasch-Sotwina and Acting Lance Corporal Mike Goody, as well as physiotherapist Kate Sherman from Headley Court. Martin is a linchpin of Battle Back, the programme that has done so much to encourage adaptive sport and adventurous training opportunities for wounded, injured and sick personnel from across the Armed Forces.
Martin is deeply proud that he was selected to carry the Flame, doubtless in tribute to co-founding Battle Back four years ago, when he was a serving Army officer:
It's a biggie and going to be a real privilege to be able to help kick off the Games," said Martin as he reflected on the unique honour.
Martin was the first boss of MOD's Battle Back programme and has seen it grow from an acorn to the nationally-respected initiative that instils drive into injured Service personnel and helps them realise their sporting dreams.
The team will run in Newham, passing the torch between them on the final leg as they approach Stratford's Olympic Stadium at about 2145hrs tonight when the world's eyes will be on the Opening Ceremony inside the stadium.
Each runner will hold the torch for 300 yards (274m), linked by their close ties with both Battle Back and Help for Heroes, the charity that, with the MOD, founded Battle Back and has been involved from the outset providing financial and design input.
Through Martin's connections with Help for Heroes, he has nominated 13 servicemen to take part in a Paralympic Inspiration Programme - their goal to become Paralympians of the future. He'll then move into the Paralympic Village to join the British Paralympic Association's staff, and is working with LOCOG (London Organising Committee of the Olympic and Paralympic Games) on injured servicemen's involvement in both the opening and closing ceremonies, though he's understandably tight-lipped on the details.
Another team member is Colonel Fred Hargreaves, a Royal Signals officer and self-confessed 'ski nut'. Colonel Hargreaves set up the first adaptive ski exercise in Bavaria named 'Snow Warrior Adaptive' in 2008 that evolved into the Battle Back programme
More recently Help for Heroes and the British Paralympic Association have launched 'Frontline to Startline', an initiative to help wounded Service personnel progress into becoming professional athletes. The Royal British Legion has also joined the programme recently, funding the Battle Back centre at Lilleshall.
Throughout his 27-year military career Colonel Hargreaves enjoyed taking part in sport and set up the scheme to ensure injured Service personnel were also given the chance to do something different and fun.
Martin says Colonel Hargreaves was a natural choice:
Fred has done so much to promote disability sports; without him and Battle Back many of our wounded, injured and sick would not be where they are today. A number of Paralympic athletes have been helped by Fred, and are the best demonstration of what he has achieved.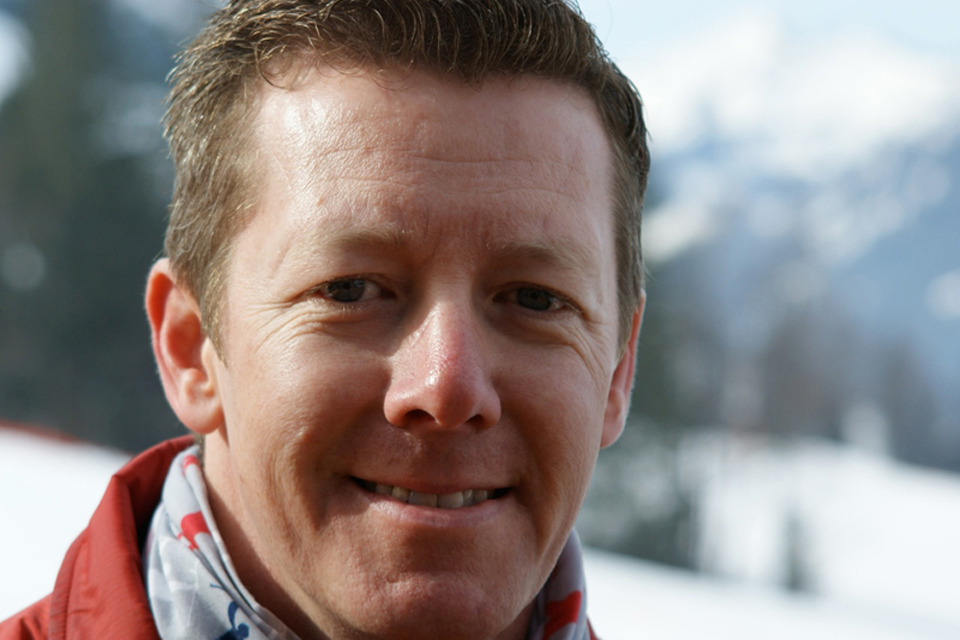 Colonel Hargreaves is grateful for the support he has received from Help for Heroes:
With similar values, visions and focus on the injured individual and their family, Help for Heroes has consistently provided vital moral, physical and financial support to Battle Back and all its participants. I am immensely pleased with the support Help for Heroes has offered Battle Back since the very earliest days of both organisations. They complement each other brilliantly.
Colonel Hargreaves was touched by the nomination to carry the torch. He said:
Having launched Battle Back 60 years to the day after the first Stoke Mandeville Games [28 July 2008], the precursor to the Paralympics created for the wounded of the Second World War, it is particularly poignant that we are able to once more recognise the contribution and sacrifice made by the military, as well as the significant physical and psychological benefits that competitors enjoy.
Staff Sergeant Matt Raasch-Sotwina also spoke of his excitement to be involved in a once-in-a-generation event. SSgt Raasch-Sotwina, who was diagnosed with a brain tumour in 2008, had been invited by Battle Back to try water skiing after surgery left him partially paralysed, deaf in his left ear and suffering with balance and coordination problems.
SSgt Raasch-Sotwina, a Senior Non-Commissioned Officer serving with 24 Commando Engineer Regiment, only just fell short of his aim to qualify for Britain's Paralympic team. His new goal is to become the first person to fly a flexwing microlight in Antarctica.
SSgt Raasch-Sotwina praised Battle Back for helping him along his road to recovery:
The support I've had has been amazing; after being at Headley Court, Battle Back offered to take me water skiing. They make you feel like nothing is impossible, no injury or disability gets in the way of doing sport, and for a time you forget what you can't do and get on with it.
SSgt Raasch-Sotwina, a retired sprinter, still can't believe that he's been nominated to carry the torch:
I feel privileged because it's something I'm doing in my own country in front of the British public and I'm honoured because I'm carrying it for my daughters and family but also my regiment who supported me and gave me time to train, Battle Back who played a key part in my rehabilitation, and Help for Heroes who financially helped me while I've been training.
It's even more exciting after seeing the excitement around the Olympic Torch," continued SSgt Raasch-Sotwina.
His big moment will be even more special as it will be witnessed by his daughters and partner along with his mother, brother, sisters and wider family:
I'm welling up as I speak," he said. "I decided not to carry on with athletics when I was unlikely to miss the final grade and tried to distance myself from sport, so to be nominated regardless is quite an honour. When I read my nomination, I think it can't be me. Equally, I feel emotional and proud and to have this opportunity is indescribable.
The youngest member of the team is Acting Lance Corporal Mike Goody who was injured in an improvised explosive device blast in Kandahar province in 2008. LCpl Goody is a shining example of a serviceman who has grabbed every opportunity to use sport to help him lead a more independent life.
The trainee paramedic is also a talented athlete. Singled out through a talent identification programme for swimming in 2010, LCpl Goody has qualified as a professional water ski and archery instructor.
Following the bomb blast, LCpl Goody suffered permanent damage to bones in his feet and underwent an elective amputation last year. Now he reckons that he's a better swimmer than ever and has competed in a cross-Channel swim with other injured servicemen:
I'm very humbled to be carrying the Paralympic Torch," said LCpl Goody. "Everyone caught a bit of Olympic fever with the Games and hosting the Paralympic Games on home turf will really boost disability sport across the country, raise awareness, and hopefully it will inspire people to get involved.
Published 29 August 2012