Military personnel carry the Olympic Flame
The Flame arrived in the UK last week at Royal Naval Air Station Culdrose in Cornwall, and, after being transferred to Land's End by a Royal…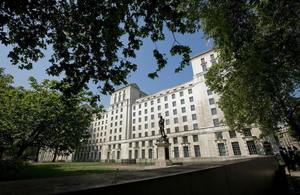 The Flame arrived in the UK last week at Royal Naval Air Station Culdrose in Cornwall, and, after being transferred to Land's End by a Royal Navy Search and Rescue helicopter crew, it began it's tour of the country before arriving at the Olympic Stadium on 27 July 2012 for the lighting of the cauldron at the Opening Ceremony,
Once the cauldron is lit, the London 2012 Olympic Games have officially begun.
Amongst those members of the military who have already had their torchbearing experience are Royal Naval Reservist Commander Jane Allen and her husband, former Royal Marine Captain Frank Allen, who ran consecutive legs of the relay in South Devon.
Captain Allen received the Flame on 20 May 2012 on the Paignton to Torquay coastal road near the Livermead House Hotel and passed it over to his wife's torch outside the Grand Hotel in Torquay, whose own leg of the relay took her to the old station on Rathmore Road.
Commander Allen said she was honoured to be a runner in the Olympic Torch Relay and taking part with her husband made it extra special.
Representing the Army, bomb disposal expert Sapper Victoria Swain pounded the streets of Somerset with the Flame on 23 May 2012 when she completed her leg of the relay.
The Army reservist said she was 'absolutely ecstatic' to see hundreds of people lining the streets of Flax Bourton, some with banners saying 'You're my hero'. She added:
I couldn't believe how many people came out at this time in the morning, it's just an amazing feeling.

To be picked and hold the Olympic Torch is really heartwarming. I can't tell you how I feel right now, I'm absolutely ecstatic.
Sapper Swain was chosen for the Olympic Torch Relay from tens of thousands of Evening Standard readers' nominations after she was put forward by the operational and welfare officer of the Catford Territorial Army unit, Captain Bill Bailey.
One serviceman who has still to take his turn as an Olympic Torchbearer is Corporal Ricky Furgusson, from 4th Battalion The Rifles.
Corporal Furgusson was critically injured in a bomb blast in Afghanistan in January 2010, losing both legs, his left eye and fingers on both hands. Despite his extensive injuries, Corporal Furgusson achieved his goal of walking to receive his Military Cross from Her Majesty The Queen just 11 months later.
On 30 May 2012, Corporal Furgusson will carry his Olympic Torch for 300 metres along Barratt's Hill and the High Street in Broseley, near Telford.
He said:
Carrying the Olympic Torch is a real privilege. To have been selected from thousands of nominees is very special. I am really looking forward to it and friends and family will be there to support me. I just hope I don't drop it.
This summer is looking like a rather exciting one for Corporal Furgusson as he will also take part in the spectacular 1,000-boat Queen's Diamond Jubilee flotilla on the Thames on 3 June 2012 alongside other wounded soldiers on the 'Shropshire Lad' narrowboat, provided by Shropshire charity the Lyneal Trust.
He will also attend the Queen's Garden Party and Diamond Jubilee Concert at Buckingham Palace the following day, where he will have a front row seat to enjoy some of the country's top acts performing.
Corporal Furgusson added:
Hopefully I should meet the Queen at the Garden Party. When I received the Military Cross from her, it was a very formal ceremony and there wasn't an opportunity to talk to her, so it would be nice to this time.

The concert should be awesome. I have only been to a couple of music events in my life but nothing like this, with so many top acts in such an amazing setting. It should be an unforgettable time.
From the RAF, Corporal Lee Hale is gearing up for his torchbearing stint which will take place on 5 July 2012 in Saxmundham, Suffolk.
Corporal Hale, who is a Weapons Engineer at RAF Odiham, said:
It was an enormous surprise when I received the first correspondence from the Olympic Torch organisers.
"I am excited to be selected to carry the torch; it's a great honour to represent all my colleagues in the Royal Air Force and allows me to say a huge thank you to everyone who has supported me over the years."
On average, there will be 115 people running with the Flame on each day of the relay, each taking responsibility for it for 300 metres.
Torches will be carried by 7,300 people who were nominated and the remaining 700 will be carried by celebrities and athletes.
Published 25 May 2012