Military path-liners for Royal Wedding named
The 24 personnel from the Royal Navy, Army and RAF have been chosen because they have a personal connection to Prince William, or because of…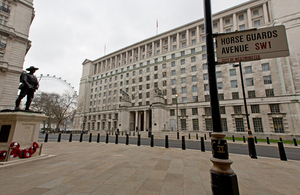 The 24 personnel from the Royal Navy, Army and RAF have been chosen because they have a personal connection to Prince William, or because of the outstanding contribution they have given to their Service.
They will line the path outside the Great West Door as the couple emerge, 12 on each side. This morning they visited the Abbey to rehearse their roles.
They are:
Royal Navy
Lieutenant Steve Clarke, HMS Vanguard.
Lieutenant John Crow, 40 Commando Royal Marines.
Lieutenant Jason Hannigan, HMS Daring.
Chief Petty Officer Sharon Cummins, HMS Wildfire.
Sergeant 'Bernie' Manning, 40 Commando Royal Marines.
Leading Physical Trainer Gavin Rees, Royal Naval Leadership Academy.
Able Seaman Dennis Brown, HMS Wildfire.
Able Seaman Eldon Hughes, HMS Astute.
Leading Physical Trainer Gavin Rees is currently working on the Fit for Life Team in Royal Navy recruiting, and was Prince William's Physical Training Instructor on HMS Iron Duke in 2008. He said:
My abiding memory of Prince William was that he was always late for circuit training, so I always had to give him extra press ups! Looking back on it now it's amazing to think that I took the future King for circuit training.

I'm really pleased I've been given this once-in-a-lifetime opportunity to be among the privileged few to line the path into Westminster Abbey. It's a great honour and a memory to look back on and tell the grandchildren.
He also said Prince William was a really genuine bloke who got on with everyone and was great fun.
Army
Lieutenant Colonel Brian O'Gorman, Irish Guards.
Captain Max Dooher, Irish Guards.
Warrant Officer Class 2 Leigh Anderson, Blues and Royals, Household Cavalry Mounted Regiment.
Warrant Officer Class 2 Shaun Fry, Life Guards, Household Cavalry Mounted Regiment.
Warrant Officer Class 2 Byron Gibson, Life Guards, Household Cavalry Mounted Regiment.
Staff Corporal Stephen McWhirter, Blues and Royals, Household Cavalry Mounted Regiment.
Warrant Officer Class 2 Parke, Irish Guards.
Guardsman Williams, Irish Guards.
Captain Max Dooher, Irish Guards, said:
It is an honour to represent the regiment at the wedding of our Colonel, Prince William. As Colonel, he has both sympathised and celebrated with the 1st Battalion during our recent deployment to Afghanistan, so it is appropriate that fellow Micks are there to celebrate and mark this special day.

Lining the path for a newly-married couple is an honour at any military wedding, and on this occasion the significance is even greater. Every Irish Guardsmen wishes to celebrate the wedding of Colonel William and his new wife; being chosen to be one of the few to show this support from the regiment is a great personal honour.
Royal Air Force
Wing Commander Kevin Marsh, RAF Valley.
Flight Lieutenant Tom Benson, RAF Leeming.
Warrant Officer Peter Hainsworth, RAF Coningsby.
Sergeant Kristian Harrison, Headley Court.
Sergeant John McClymont, RAF Brampton.
Corporal Karen Edwards, RAF Lossiemouth.
Lance Corporal Darren Luke, RAF Northolt.
Senior Aircraftman Johnathon Freeman, RAF St Athan.
Wing Commander Kevin Marsh mentored Prince William during his time spent with the Royal Air Force in 2008, when he learnt to fly and gained his RAF Wings. He said:
It is an amazing honour and a privilege to be chosen for such a distinguished, once-in-a-lifetime duty. My wife and I are very excited to be attending the wedding service, and our children and their grandparents will be looking out for us on TV.
More than 1,300 personnel from across the Armed Forces will be playing a key role in the ceremonial elements of the Royal Wedding. This includes guard duties, lining the processional route, musical support through ceremonial bands, and a spectacular seven-aircraft flypast from the RAF Battle of Britain Memorial Flight and two Tornado and two Typhoon fast jets.
Representing all of the Armed Forces inside the Abbey will be Chief of the Defence Staff General Sir David Richards, Chief of the Naval Staff Admiral Sir Mark Stanhope, Chief of the General Staff General Sir Peter Wall and Chief of the Air Staff Air Chief Marshal Sir Stephen Dalton.
Other members of the Armed Forces are attending the wedding service in a private capacity.
Published 28 April 2011