News story
Military heroes honoured at the Millies
The Sun's Military Awards paid tribute to the excellence and courage of Armed Forces personnel at a ceremony held in Greenwich last night.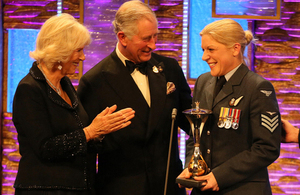 The Prince of Wales and the Duchess of Cornwall were guests of honour at the sixth annual Sun Military Awards, known as 'The Millies', which were held at the National Maritime Museum in Greenwich and billed as 'A Night of Heroes'.
They were joined by Prime Minister David Cameron and wife Samantha, defence ministers, senior military, government and political figures and stars from entertainment and sport to pay tribute to exceptional individuals in one of the most moving TV events of the year.
In 8 categories, the awards honoured the bravery and excellence of the men and women serving at home and overseas. Also celebrated were members of the public who in various ways work tirelessly to support military personnel.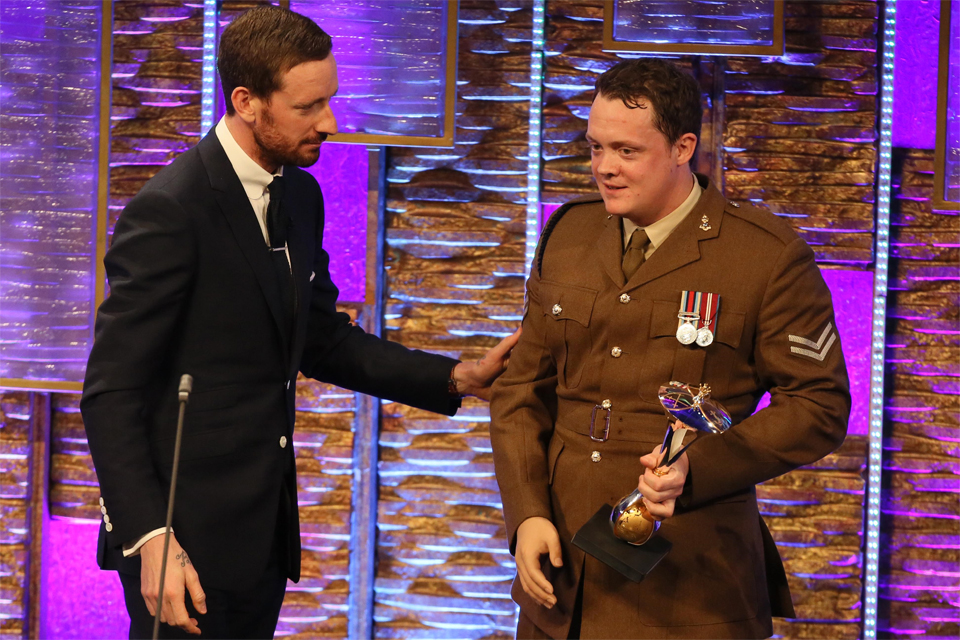 Among the winners was triple amputee Corporal Josh Boggi from the Royal Engineers who was presented with the award for Overcoming Adversity by Olympian Sir Bradley Wiggins.
Corporal Boggi was injured on New Year's Eve in 2010 but completed the 420-mile 'Big Battlefield Bike Ride' just 3 years later and is now aiming to compete in the Paralympics in Rio in 2016. He said:
If I do inspire people, I don't dwell on it. I'm just a normal bloke trying to lead a normal life. If you take a bad turn in life, there's always something you can do to improve. You just get on with being the best person you can.
Sir Bradley said:
The word 'humble' gets thrown around a lot but we're all in admiration for what he's done, not just for the way he's picked himself up and thrown himself into it, but Josh's story in redefining his life through cycling is incredibly courageous. Hopefully we'll see him in Rio.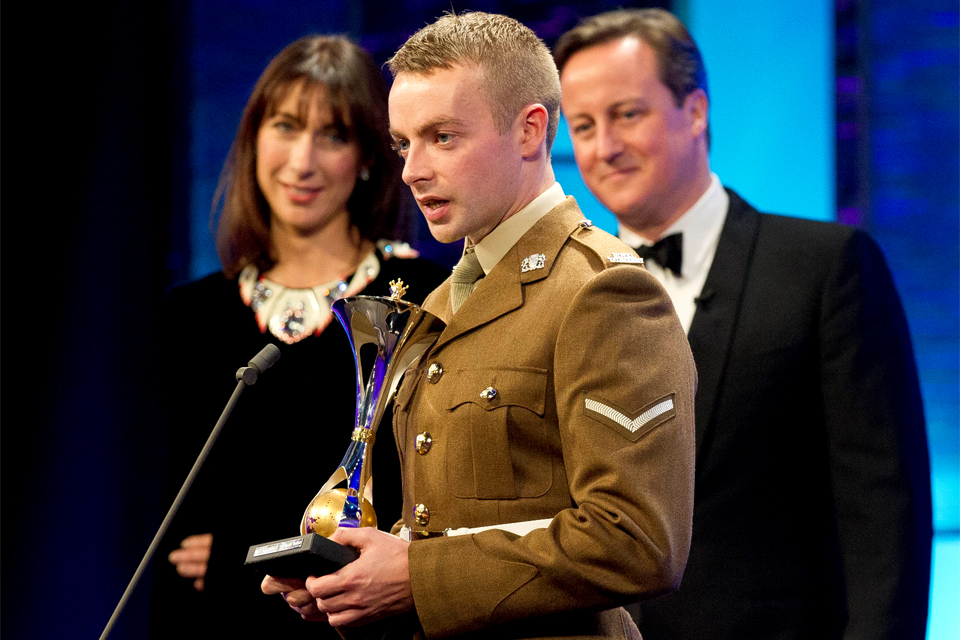 David and Samantha Cameron presented the award for Best Reservist to Lance Corporal Keith Mallon of the Royal Yeomanry.
By day, Lance Corporal Mallon works for a publishing house but he's also a member of the Royal Yeomanry team responsible for detecting improvised explosive devices laid by the Taliban.
Paying tribute to the Armed Forces, Mr Cameron said:
When we say thank you, you say 'it's just our job', but we know you go above and beyond the call of duty and we thank you for that.
Citing military values of courage, comradeship and service, he added:
These are the values we should cherish that we need more of in our country. You truly represent the best of British and it's humbling to be in your presence.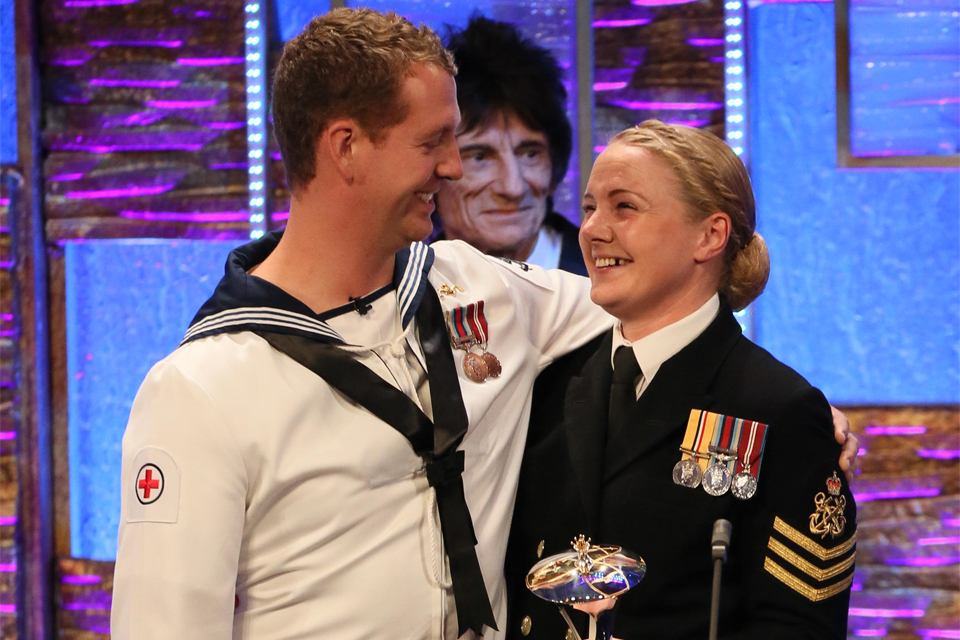 One of the most moving moments was when Petty Officer Emily McCullough from the Queen Alexandra's Royal Naval Nursing Service received the Most Outstanding Sailor/Marine Award from Ronnie Wood for her exemplary care of patients during 2 tours of Afghanistan and one in Iraq.
The dedicated military nurse has only seen her submariner husband Sean for just a few weeks since they married in 2012 and her acceptance speech was interrupted when Sean surprised her on stage in a tearful reunion.
Petty Officer McCullough said later:
To be singled out is just such an honour. This whole thing has been crackers and I'm so embarrassed that I cried all over the stage but I just couldn't help it as it's so overwhelming!
Ronnie Wood said:
It's amazingly important to celebrate our unsung heroes. In everyday life, you don't realise what goes on and take it for granted. But, when you meet them and see what they do, its mind-blowing.
The award for Most Outstanding Soldier went to Rifleman Josh Dodds, from B Company, 4th Battalion The Rifles, who killed a Taliban sniper on his first tour of duty. He said:
You just think of doing your job and making sure everyone is safe; you don't feel scared as it's a good adrenaline rush!
Handing over the award, Holly Willoughby took time to send a message to troops serving abroad at Christmas. She said:
My message is stay safe. I'll be thinking of you and raising a glass over my Christmas dinner. Look after yourselves and come back soon.
Prince Charles and the Duchess of Cornwall presented the award for Most Outstanding Airman to Sergeant Anna Irwin, from 18 (Bomber) Squadron, based at RAF Odiham, who helped load her Chinook helicopter with injured personnel in the aftermath of a Taliban attack.
Even when a rocket-propelled grenade struck close by, Sergeant Irwin kept a cool head to keep the helicopter on the ground until all were safely on board. Going out of her way to thank as many comrades as possible, she said:
When we go out, it's not just the crew behind what we do, it is everybody that is involved and that's why I wanted to include them. The award is for something that happened on a particular night but the award wouldn't have happened without all those people.
The award for Support to the Armed Forces went to the Families' Activity Breaks charity who help bereaved military families pick up the pieces by provide action-packed holidays that help put a smile back on their faces.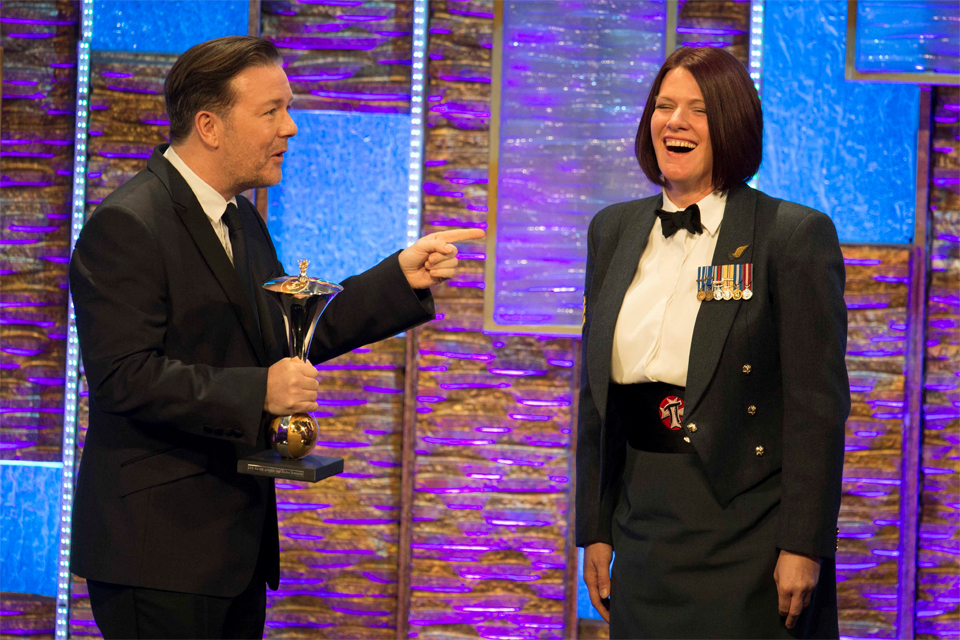 Sergeant Rachael Robinson, from A Flight, 22 Squadron, RAF Search and Rescue Force, received the Lifesaver Award for risking her life again and again to rescue a seriously injured French fisherman at sea.
Backstage, a 'completely gobsmacked' Sergeant Robinson dedicated her success to her dad who died last month. Asked where her drive came from, she said:
I just wouldn't want anyone to die when I'm on shift, as that would be my worst nightmare, so I just keep going. I can't believe it really.
Ricky Gervais handed Sergeant Robinson her award and hailed her 'incredible' achievements. He said:
It is an amazing evening and I'm determined not to cry. It's so humbling when people thank you for turning up but these people are risking their lives.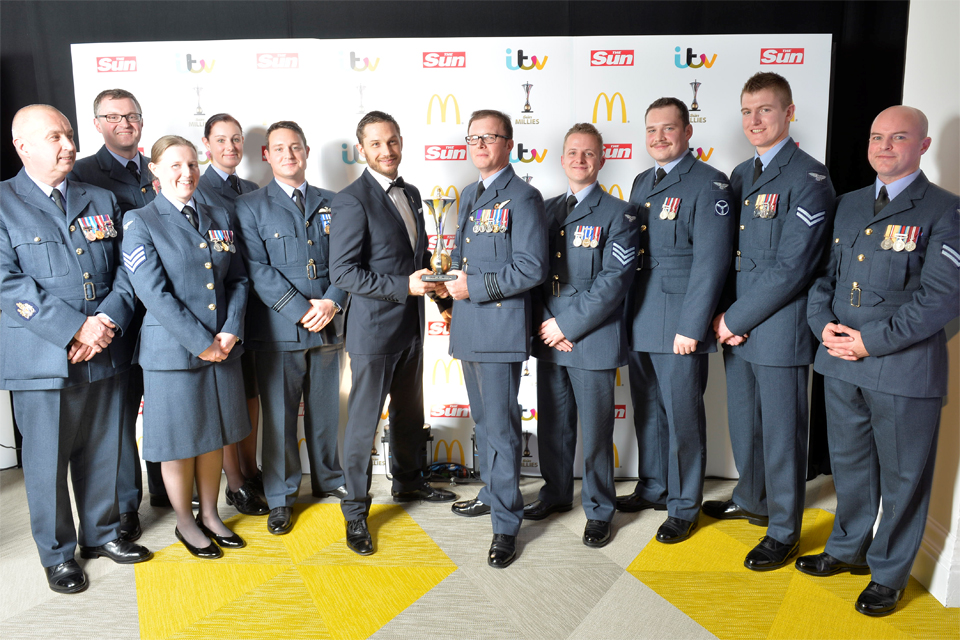 The highly competitive category of Best Unit was topped by the 904 Expeditionary Air Wing Tornado Detachment who have flown key missions continually for 23 years.
There were also 2 Special Recognition Awards. The first went to veterans of the Battle of the Atlantic. Veteran Albert Owings, 90, a former radio officer, described receiving the award as 'very emotional'. The second award went to Camp Bastion's Support to Operations personnel in Afghanistan.
'A Night of Heroes – The Military Awards' will be broadcast on ITV at 9pm on Monday 16 December.
Published 12 December 2013