Military help emergency services deal with the snow
The British military have been providing support to the emergency services and helping people in isolated communities up and down the United Kingdom cope with the ongoing severe cold spell.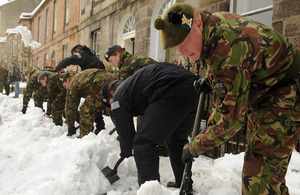 In Scotland, where temperatures have been plummeting towards minus 20 degrees Celsius, troops from 1st and 6th Battalions The Royal Regiment of Scotland (1 and 6 SCOTS) and 32 Signal Regiment (Volunteers) have been using Army Land Rovers to assist the Scottish Ambulance Service in transporting NHS paramedics to call-outs in Edinburgh and Glasgow.
Commanding Officer of 32 Signal Regiment (Volunteers), Lieutenant Colonel Philip Donegan, explained:
TA soldiers from 32 Signal Regiment (Volunteers) and 6 SCOTS have been providing close support to the Scottish Ambulance Service. Since deploying late on Monday evening they have been extremely busy.
They have been conducting a number of driving details including ferrying paramedics to those requiring medical assistance but who are unable to travel to hospital.
The soldiers have also been busy rescuing those who require immediate medical care or who are at risk from the severe cold. Typically this has been the elderly, infirm and infants. The challenge has been varied and the soldiers have been called to assist with fractures, women in labour and cold weather injuries.
The soldiers are based at the National Risk and Resilience Department in Johnstone and are on permanent standby to cover a wide area of responsibility which includes Lanark, Motherwell, Airdrie and East Kilbride.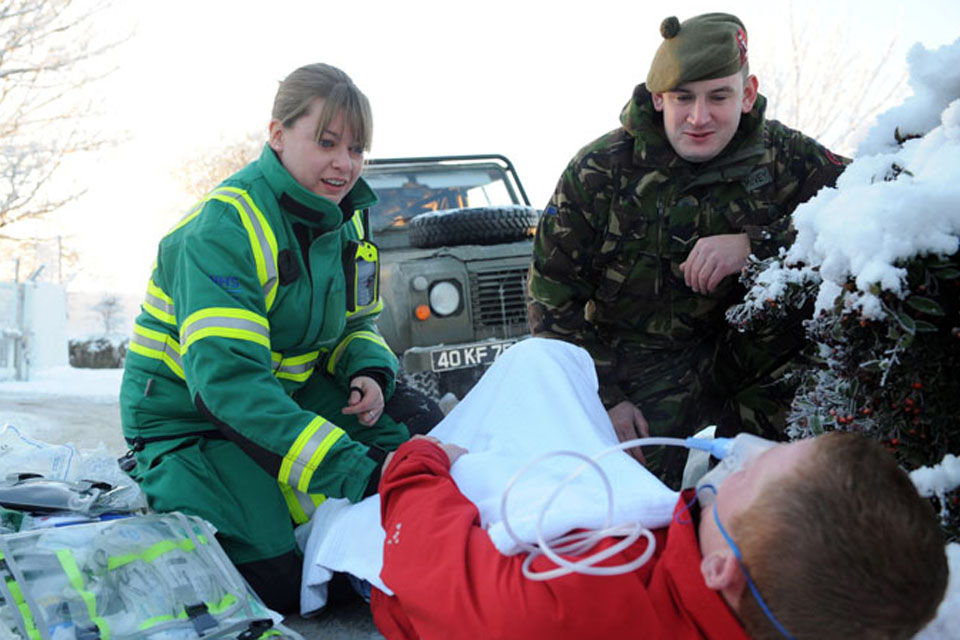 Army, Navy and Royal Air Force personnel are also currently engaged in tasks in support of Edinburgh City Council, clearing snow and ice where there is a risk to life and health and to alleviate distress.
Soldiers from 1 SCOTS, based in Edinburgh's Dreghorn Barracks, augmented by 40 personnel from RAF Leuchars in Fife and 25 sailors from HMS Illustrious in Rosyth, are clearing access routes to hospitals and residential homes and helping people to get to emergency medical appointments throughout the city.
Members of the Royal Marines Band Scotland are also on standby to help.
Major David Goodacre, Officer Commanding B Company, 1 SCOTS, said his men were pleased to help:
We have just returned from six months in Afghanistan and we got such support from the public while we were away that we are using this as an opportunity to give something back.
Brigadier George Lowder, Commander of 51 (Scottish) Brigade, is in overall charge of the military personnel helping out. He said:
The troops have been deployed to save and preserve life, and alleviate significant distress. By that I mean they will be clearing access routes to hospitals, surgeries, care homes and the like to make sure that vital supplies of fuel, medicines and food get to people that most need it. They are not on the streets to shovel snow from garden paths!
Soldiers from the Edinburgh-based 3rd Battalion The Rifles (3 RIFLES) were the first to assist the emergency services with battling the backlog of calls caused by the heavy snowfall this week.
Operating out of a control centre in Edinburgh numerous military Land Rovers were manned by soldiers from 3 RIFLES and civilian paramedics to assist the overstretched medical services. They were able to reach areas badly affected by snow and those in need of urgent medical attention.
Lieutenant Colonel Charlie Maconochie, Commanding Officer of 3 RIFLES, said:
The weather has badly affected us all and, given the manpower and equipment at our disposal, it was the least we could do to help those in need of urgent assistance.
In South Yorkshire, various units have been helping the emergency services.
Two Land Rovers and drivers from 212 Field Hospital (Volunteers) have assisted the South Yorkshire Police in their response to 999 calls and a battlefield ambulance from the unit returned new mothers and babies from the Royal Hallamshire Hospital home to make room for expectant mothers.
Two Land Rovers and drivers from 38 Signal Regiment (Volunteers) also assisted the South Yorkshire Police in their response to 999 calls, while drivers from 146 Field Company, 104 Royal Electrical and Mechanical Engineers (Volunteers), used their Land Rovers to assist the police in reaching isolated communities as snow on the A57 blocked in the Worksop area.
Meanwhile, at the other end of the country in Kent, 36 Engineer Regiment have been helping deliver meals on wheels, and soldiers from 5th Battalion The Royal Regiment of Scotland have been helping get patients to hospital in Brighton.
The Royal Military Police at Longmoor have also been giving assistance to the Hampshire Police.
Published 9 December 2010