World news story
Military Cooperation Plan for 2014
UK and Kazakhstan Ministries of Defence agree military cooperation plan for 2014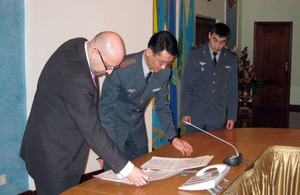 Following the successful visit of the Kazakh Defence Minister to London last month, annual working level Defence Staff Talks were conducted in Astana on 19 November.
Twenty one activities were agreed and they include:
support to English Language Training
career courses in UK and Peacekeeping courses at BMATT in the Czech Republic
support to the programme of professionalisation of the Kazakh Armed Forces
participation in KADEX.
It is planned that for the first time in 2014 a team from the Kazakh Armed Forces will take part in the UK's premier low level Infantry competition – the Cambrian Patrol – which takes annually in Wales in October. This is part of a closer cooperation that is being developed between KAZBRIG and 160 (Wales) Infantry Brigade.
Commander 160 (Wales) Infantry Brigade Brigadier Philip Napier said:
I look forward to taking forward CGS's direction and developing closer ties with the Kazakh Armed Forces during my initial visit to Kazakhstan in March 2014.
Published 26 November 2013