Military Chiefs meet in London to discuss Libya
UK Chief of the Defence Staff, General Sir David Richards, hosted his counterparts at the Ministry of Defence in London, where they discussed…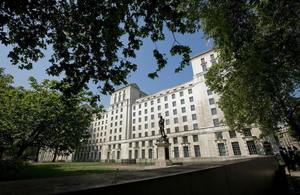 UK Chief of the Defence Staff, General Sir David Richards, hosted his counterparts at the Ministry of Defence in London, where they discussed how best to work together to keep up the pressure on the Gaddafi regime and prevent its deliberate targeting of Libyan civilians.
Discussions between the military heads of NATO and its partners take place regularly and this is the latest in a series of meetings between military leaders to co-ordinate their contribution to Operation UNIFIED PROTECTOR, the UK element of which is known as Operation ELLAMY. Today's meeting follows a meeting in Paris in April 2011.
To date, NATO has successfully enforced the arms embargo, protected civilians, and targeted Gaddafi's forces, reflected in the fact that 33 NATO allies and operational partners recently agreed unanimously to continue the operation for a further 90 days.
General Richards said:
Today's meeting of 15 NATO and partner nations in support of the UN resolution demonstrates that Operation UNIFIED PROTECTOR is increasing the pressure on the Libyan regime. It is clear from the commitment of those present - Arabs, Europeans and North Americans - that the UN's wish to protect the people of Libya will be enforced. The meeting examined how the operation can best be brought to a speedy and successful conclusion.

As our political leaders have said, there is no future in Libya for Muammar Gaddafi. We have already significantly degraded his ability to attack the Libyan people and that will continue. Sooner or later he will lose and all he is doing is continuing to impose suffering on the Libyan people.
Published 21 June 2011