Military chefs put the icing on the cake for Diamond Jubilee
The five-man team has been working in secret on the enormous 90kg commemorative cake for the past eight weeks at Worthy Down Camp in Hampshire…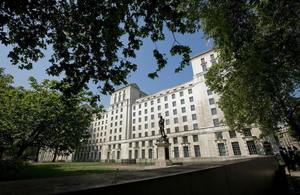 The five-man team has been working in secret on the enormous 90kg commemorative cake for the past eight weeks at Worthy Down Camp in Hampshire:
It's traditional for the military to be involved with making cakes for such an event, and as the teaching school of catering our instructors have a lot of experience in large ceremonial cakes - although eight weeks is not a lot of time for a cake of this stature," explained Andrew Jones, the Craft Director for the school.

Making the cake is the easy bit. The time-consuming part is hand-painting all the sugar plaques, getting the six layers of icing perfectly smooth, and making the crown that sits on top of the cake. That requires a lot of precision and patience.
Indeed, the hand-painted pastillage* crown has taken two weeks alone to make, and weighs one kilogram. In total the chefs have used 30kg of icing sugar to dress the cake, while a bespoke cake tin had to be made to bake the large 50kg bottom tier, with a reinforced cake stand also having to be made to withstand the weight of the mighty cake.
Despite all the hard work, the chefs say they won't be sad to see the cake cut into pieces on Saturday:
The proof is in the pudding," said Alan Starling, an ex-Royal Marine who made Prince Andrew's wedding cake while he was still a serving commando.

Years ago I used to get upset when you had done all that work only to see it cut up, but now I don't. What people remember is how the cake tasted, so that's the be-all and end-all.
The cake will be unveiled to Her Majesty The Queen and her guests at the Diamond Jubilee Parade and Muster at Windsor Castle on Saturday 19 May 2012.
* A sugar-based dough used for sculpted and moulded cake and pastry decorations.
Published 17 May 2012