Military band entertains Olympics troops and fans
A military band has helped to both boost the morale of troops undertaking Olympics security duties and entertain the crowds watching the tennis.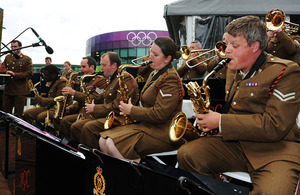 The Band of the Adjutant General's Corps' rock group 'Row 8' performed for troops living in temporary accommodation at Hainault in Essex on Monday last week, before its 15-strong dance band entertained spectators at Wimbledon on Wednesday and Thursday.
Director of Music Captain Guy Booth said:
We've had two very different roles for the Olympics, and have provided two different groups playing very different styles of music. But all of our performances are as important as each other and it's a great experience for our musicians to be involved in the Olympics.
For the troops, we played the music that's on their iPods to entertain them at the end of the working day, while it was a mix of traditional and more modern dance band music for the tennis.
Hainault Camp is providing accommodation for 3,500 troops performing security duties at sports venues at the Olympic Park and the ExCel exhibition centre.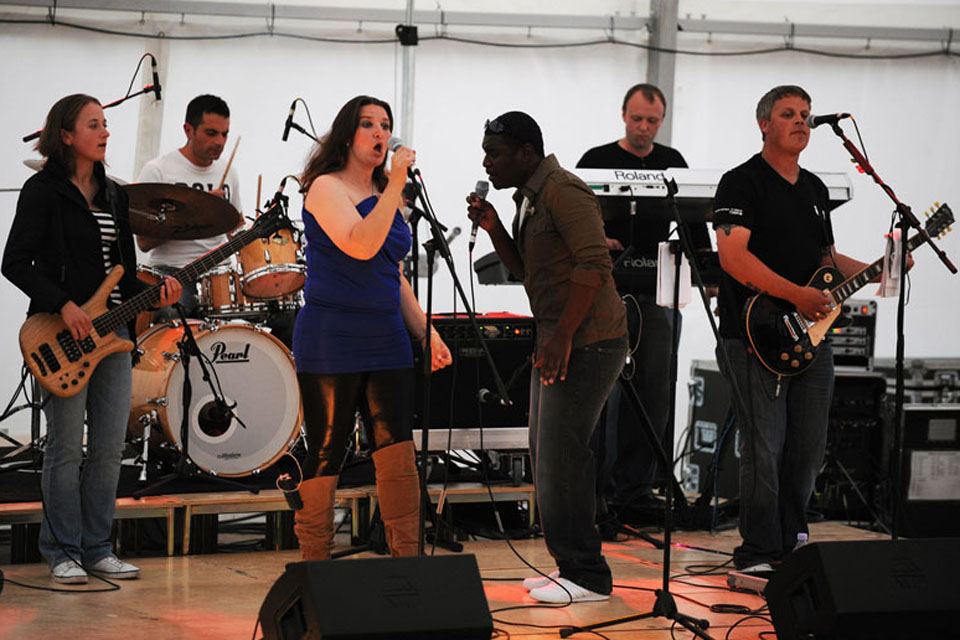 The Commandant, Wing Commander Guy Bazalgette, said:
The concert is giving the guys and girls some fun and entertainment to thank them for their hard work, patience and perseverance in support of the Olympic Games.
Among those enjoying Monday's concert was Staff Sergeant Mick Taylor of 170 (Infrastructure Support) Engineer Group, based at Chilwell in Nottinghamshire, who is working at a VIP entrance to the ExCel exhibition centre.
Staff Sergeant Taylor said:
It's great to have some entertainment laid on for our downtime and I'm enjoying being part of an event of the scale and excitement of the Olympics. Where I work we've had several heads of state and presidents come through, which gives an idea of the profile of the event we're involved with.
The Band of the Adjutant General's Corps, based at Worthy Down in Hampshire, will return to Hainualt during the Paralympics to perform for the soldiers, as well as entertaining troops on board HMS Ocean. The band is also heading out to Afghanistan in November to entertain troops over the Christmas and New Year periods.
Published 7 August 2012