Military and Civilian Health Awards 2011 launched
The fourth annual Military and Civilian Health Partnership Awards are now open for entries.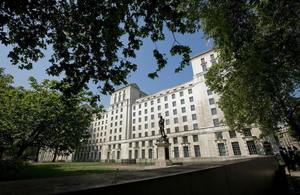 The awards highlight and celebrate the exceptional care for the Forces across all professional disciplines and settings, as well as highlighting the close partnership with Britain's military and civilian health and social care workers.
Nominations are open to civilian and military health and social care staff working within Defence Medical Services, the health service and the private or voluntary sectors.
The nine categories are:
Innovation in Service Development Award
Education and Training Award
Health Improvement and Promotion Award
Mental Health Award
Healthcare Reservist of the Year
Healthcare Regular of the Year
Healthcare Civilian of the Year
Care of Veterans Award
Deployed Healthcare Award
The closing date for applications is 29 July 2011 and entrants can be self-nominated or entered by patients, colleagues or members of the public.
Minister for Defence Personnel, Welfare and Veterans, Andrew Robathan, said:
The Military and Civilian Health Partnership Awards are an opportunity to celebrate and recognise the incredible results that both our military and civilian colleagues achieve by working together, and I am proud that it is the MOD's turn to host the annual awards competition; now in it's fourth successful year.
The Surgeon General, Surgeon Vice Admiral Philip Raffaelli, said:
These awards encourage and reward those striving to deliver the very best health care to our servicemen. They allow us to share best practice and to learn from each other, improving the care to all of our patients. This is a partnership that stretches across the whole of the UK, and is one that we all, civilian or military, can be proud of.
Last year, the Military Operational Surgical Training (MOST) team won the Education and Training Award and leading the team was Surgeon Captain Mark Midwinter, who was awarded the CBE for his for his exceptional contribution to the development of military surgery, in particular battlefield trauma in the Birthday Honours list 2011.
Published 1 July 2011