Press release
Middlesex company fined £137,500 for drivers' hours offences
Court finds coach firm and 27 of its drivers guilty of abusing and breaking road safety regulations.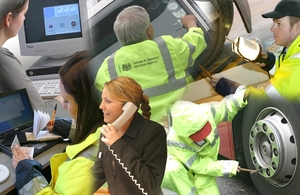 A Middlesex coach company has been fined £137,500 after being found guilty of abusing drivers' hours regulations.
Following an investigation in October and November 2010 by VOSA, BM Coach and Rental Limited, based at Silverdale Road in Hayes, were found guilty of 131 drivers' hours offences at Uxbridge Magistrates Court.
The company received fines totalling £13,500 with an additional £35,000 being payable in costs. The investigation of drivers' hours covered the period 28 June to 8 August 2010.
In addition, 27 of the firm's drivers pleaded guilty to various drivers' hours breaches, receiving fines totalling £7,228 plus £2,700 costs.
Acting on intelligence, VOSA officers visited the premises of BM Coach and Rental Limited and seized documents including timesheets, pay records and digital tachograph data which show the time drivers have spent behind the wheel and their rests.
VOSA's analysis of the documents and digital data showed that drivers were not recording certain journeys. Timesheets and diary records produced by the company confirmed there had been journeys where no driver's hours were recorded.
The investigation found that the company did not have adequate systems in place to show who was driving the vehicles because no record was kept of the journeys. Therefore, it was impossible to determine whether or not drivers had taken proper rests.
VOSA's Operations Director Alex Fiddes said:
Drivers' hours regulations exist to make sure passengers and other road users are safe and to ensure fair competition between companies.

Tired drivers are dangerous drivers and this case demonstrates that those operators who do not make sure that their drivers have had adequate rest could find themselves in court facing substantial fines.

VOSA is dedicated to improving road safety and a vital part of our work is in ensuring drivers and operators are adhering to the drivers' hours rules.
Notes to editors
VOSA is responsible for:
processing applications for licences to operate lorries and buses and registering bus services
operating and administering testing schemes for all vehicles, including the supervision of the MOT testing scheme
enforcing the law on vehicles to ensure that they comply with legal standards and regulations
enforcing drivers' hours and licensing requirements
supporting Traffic Commissioners to help them make informed decisions on operator licensing, vocational drivers and bus registration requirements
providing training and advice for commercial operators
investigating vehicle accidents, defects and recalls
VOSA media enquiries
You should contact our press office if you have a media query or you're a journalist.
Published 7 July 2011