Middle East Peace Process direct talks
Foreign Secretary William Hague has spoken after the agreement of direct talks between the Government of Israel and the Palestinian Authority.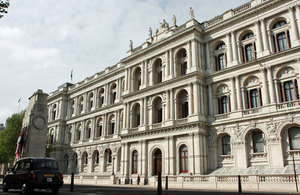 Following the agreement, the Foreign Secretary said:
"I warmly welcome the decision by Prime Minister Netanyahu and President Abbas to move to direct talks, and the Quartet statement earlier today.
A two state solution is the only hope for lasting peace and security for Israelis and Palestinians. Today's announcement is a courageous step towards that goal.
Urgent progress must now be made. We call on all parties to refrain from any activity that could undermine negotiations.
The United Kingdom stands ready to do all we can to support the parties and buttress these important talks, working with the United States and our other EU and UN international partners."
Published 20 August 2010