Mid-sized business boost in Turkey
The first UK trade mission to Turkey focusing solely on mid-sized businesses begins on 26 April.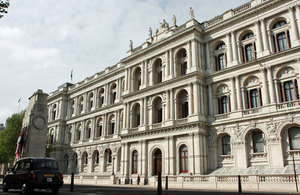 The two-day mission to Turkey, led by Trade and Investment Minister, Lord Green, and John Cridland, Director General of the CBI, will help build links between UK and Turkish firms and boost trade and investment between the two countries.
During the mission, the delegation of around 30 UK mid-sized businesses will meet key figures from the Turkish Government and business community. The UK companies, including Brompton Bicycles, will get the opportunity to build and strengthen new and existing links in a growing market.
Ahead of the visit Trade and Investment Minister, Lord Green, said:
"This is an exciting mission, the first of its kind, that brings together the opportunity offered by Turkey, one of the fastest growing economies in the world, and the export potential of the UK's mid-sized firms.
"The Government has set a clear target to get another 100,000 UK firms exporting as a key part of driving economic recovery. Direct engagement with key figures from the government and business community will help break down barriers and foster understanding that will lay strong foundations for future trade and investment."
Lord Green's visit to Turkey 2012
John Cridland, CBI Director-General, said:
"This trade mission breaks new ground, as the first one designed specifically for ambitious mid-sized businesses. If we are to achieve the Government's ambition of doubling our annual exports by 2020 to £1 trillion, we must look beyond the BRIC countries to other successful, high-growth markets such as Turkey.
"Turkey has a dynamic, growing economy, with an increasingly aspirant middle class keen to buy the sorts of goods and services we excel at, such as construction, education, and high-value manufacturing."
The mission also brings together the Department for Business and the CBI and their joint focus on helping to improve the performance of mid-sized businesses, announced as part of the Autumn Statement last year. A key element of the growth review, Business and Enterprise Minister Mark Prisk outlined the three key areas where mid-sized firms could improve their performance: harnessing leadership capability; supporting access to finance for investment and growth; and encouraging export as a strategy for growth.
The mission is a key part of the work to unlock growth among the UK's 10,000 mid-sized businesses. They have been described by the CBI as a "forgotten army" of businesses, representing 0.2 per cent of all UK firms but accounting for one fifth of private sector output and employment. In their Future Champions report the CBI set out, with the right conditions, MSBs could unlock up to £20bn annual GDP in the next ten years.
The outcomes and experiences of this mission will help pave the way for future mid-sized business focused visits concentrating on key emerging markets.
Turkey is already an important partner for British businesses with trade currently worth more than £9billion. Major British companies like BP, Tesco, Vodafone, and HSBC already have a strong presence in Turkey, but there is scope to strengthen this relationship further.
UK Trade Mission's visit to Turkey 2012
Search the news archive
Published 26 April 2012