Press release
Micro business boost will transform the economy
Lord Young, the Prime Minister's Enterprise Adviser, publishes Growing your Business: A report on Growing Micro Businesses.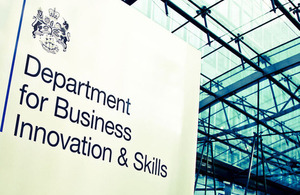 Helping thousands more new businesses get off the ground by expanding the Government's Start-Up loan scheme and opening up further the £230 billion worth of public sector contracts to the smallest businesses will help boost growth and transform the economy according to the Prime Minister's enterprise adviser, Lord Young.
In his second report to the Prime Minister, Growing your Business: A report on Growing Micro Businesses, Lord Young highlights the increasing importance that micro businesses – those which have less than 10 employees – have on the success of the economy. Making up 95% of all businesses, he identifies steps the Government can take to help them develop their confidence and capability to grow, helping the UK to get ahead in the global race.
Lord Young on his Growing Your Business report.
He recommends removing the age cap – currently set at 30 years old – for the Government's Start-Up loan scheme, so that all entrepreneurs that would otherwise struggle to secure the necessary finance and support can benefit.
The Start-Up loan scheme helps get business ideas off the ground with a loan of typically around £4,500 and mentoring support. It has exceeded expectations by 50% in its first year, with 3,768 loans worth around £16m now issued since its launch in the autumn. Many of these new businesses are now taking on their own employees.
Further recommendations in Lord Young's report include:
Legislating to abolish pre qualification questionnaires (PQQ) on contracts under €200k across the public sector, and setting "single market" principles which suppliers can expect when doing business with the public sector. These principles would simplify and standardise the bidding, payment and advertising of contracts, and would remove the complexity, cost and inconsistency when trying to sell to more than one local authority or public sector body. This would help SMEs further access the £230 billion per year that is spent on goods and services across the whole public sector.

A £30m Growth Voucher programme to encourage more small firms to get specialist help on: expanding their workforce; marketing a business; financial management and growing online. Businesses that use external advice at key stages in their development grow faster than those that do not - but too few are taking this up.

A greater role for business schools in the local economy with the establishment of a new national "Supporting Small Business Charter" and accompanying award scheme to incentivise business schools to help SMEs grow. This will include advising small firms and increasing the flow of highly qualified students and graduates into SMEs. Business schools could also become a key part of the referral process and provision of Start-Up Loans and Growth Vouchers.

Enabling the private sector to provide advice to SMEs on the Government's website GOV.UK and releasing the online SME advice that the Government holds after the closure of the Business Link website to third party providers for them to rebuild and improve.

Better marketing of Government schemes to support new and developing businesses by ensuring they are properly resourced and targeted at the small firms that need them most.
The Government will now take these recommendations forward.
Lord Young said:
We have one of the best environments in the world for the creation of new firms. What this report endeavours to do is to help and encourage all those new firms to now take on their first employees and grow.

Growing our smallest businesses would transform our economy – they are the vital 95%. If just half of the UK's micro businesses took on an additional member of staff, unemployment would be reduced to almost zero. We need to raise the aspirations and confidence of these businesses and give them the tools to grow.
Prime Minister David Cameron said:
It is very much true that Lord Young brings solutions to the table – his excellent report highlights the steps we can take to fire up business growth, helping to boost our competitiveness and ensuring the UK can get ahead in the fierce global race we are in. I thank him very much for his report.
Business Minister Michael Fallon said:
We are supporting ambitious small firms to grow, create jobs and achieve their goals. Whether that's by providing access to mentoring and advice, cutting red tape or through successful schemes like Start-Up Loans. But we are determined to go further and faster: Lord Young's important report sets out a series of practical steps that can make a real difference to entrepreneurs across the country.
James Caan, Chairman of Start-Up Loans and serial entrepreneur said:
I very much welcome the recommendations from Lord Young's report to make Start-Up Loans available for everyone in this country. His vision to get Britain's economy back on track through supporting SMEs and start-ups is something I passionately believe in and wholeheartedly support. The success of Start-Up Loans to date - an initiative that Lord Young has championed in Government - demonstrates the country's need for such ambitious thinking.
Notes to editors
Growing your Business is Lord Young's second report in his capacity as advisor to the Prime Minister on small business and enterprise. His first report, Make Business Your Business, was published in May 2012, and focused on starting a business. He now turns his attention to how micro businesses can grow.

Start-Up Loans (SULs) were launched in September 2012 as one of Lord Young's key announcements in his report Make Business Your Business. They provide funding and mentoring to help young people get their business ideas off the ground. In January 2013, Government increased the age limit from 18-24 up to 30 and boosted the fund by a further £30m to respond to increased demand; this took the total available funds to £117.5 m.

The Government will now work alongside the Start-Up Loans Company to extend the reach of SULs through the removal of age restrictions. We expect the first loans for over-30s to be made over the summer.

The Start-Up Loans Company is a private business, established and chaired by James Caan and funded by government and global partners who bring additional value to the table through free and discounted offers on products and services. All proceeds from repaid loans are recycled to the benefit of the programme. Start-Up Loans has over 40 Delivery Partners to administer loans and mentoring, operating across England.

The proposal for Growth Vouchers began with a British Chambers of Commerce suggestion to jump start small businesses' take up of specialist help by way of a voucher scheme. Lord Young secured funding of £30 million at the Budget for the programme. The Department for Business have now issued an expression of interest for private sector organisations who are interested in working with the Government to deliver this scheme, and partners will be appointed by the end of this year. Research shows that firms that seek advice are more likely to grow, but less than half of SMEs seek advice (BIS Small Business Survey, 2012).

The Government supports Lord Young's vision for a stronger link between business schools and new and growing small businesses. The Department for Business will now work in collaboration with the Association of Business Schools (ABS) to develop this Charter and Award Scheme and build on examples of business schools that are already working with small firms to help them improve their capability and skills. Government will also work with the ABS to look at ways business schools can be part of the referral and delivery of Growth Vouchers and Start-Up Loans, as part of the Charter and its accompanying award scheme.

The Association of Business Schools (ABS) represents over 130 UK business schools (higher education stakeholders, international and corporate members). Its members conduct world class research and provide a wide portfolio of business and management degrees to students from across the globe.

Public procurement offers suppliers £230bn of potential business each year. Central Government has already taken steps to ensure that all Whitehall departments use a common approach in the way they deliver their procurements - in particular in the thresholds used for pre qualification, payment terms and the way contracts are advertised, monitored and reported. Other public sector bodies are demonstrating good practice in way they engage small suppliers in their procurement - as highlighted by the first national 'Best Councils' competition, led by Lord Young and the Secretary of State for Communities, the winners of which are to be announced shortly. But Government agrees with Lord Young that reform is required to simplify and standardise procurement practice across all parts of Local Government, health trusts and the wider public sector and provide greater certainty for business seeking to compete for public sector business. The Government will consult on the high level standards which all public bodies should be looking to achieve in their procurement to provide greater certainty for business.

Government agrees that it needs a robust, evidence-based strategy for communications to all micro, small and medium sized businesses and that more needs to be done to increase awareness of schemes and, importantly, understanding about how to access them. Government has begun by delivering scheme-specific and targeted marketing to small businesses to promote a number of key small business programmes including; SEED EIS, Start-Up Loans: Regional Growth Fund programmes and the Enterprise Finance Guarantee scheme. At the same time, Government is developing an overarching communications strategy that will create a single online destination for all specific products and campaigns so that businesses can easily find out about the range of support available, aligned under one coherent, aligned brand.

GOV.UK became the central delivery point for online information and support to start-up and growing businesses, replacing Business Link in October 2012. Much of the content on the site is available to third parties to share and Government has been working in partnership with a large number of organisations, both public and private sector, to encourage them to use the content to supplement their own information provided to SMEs. Work is ongoing to extend the amount of content available for syndication.

Much of the analysis and support for business described in this report is applicable to all parts of the UK. However, Lord Young's review and its conclusions focus on the position in England, accepting that other arrangements apply in the devolved administrations.

The Rt Hon the Lord Young of Graffham PC DL graduated from University College London before becoming a solicitor. He spent a year in the profession before moving on to establish a number of successful businesses. He became Chairman of the Manpower Services Commission in 1982, entered the Cabinet in 1984, became Secretary of State for Employment in 1985 and in 1987 became Secretary of State for Trade and Industry and President of the Board of Trade. He was Executive Chairman of Cable and Wireless plc from 1990 to 1995 and thereafter Chairman of Young Associates Ltd, which invests in new technologies. Lord Young is an adviser to the Prime Minister on small business and enterprise.

The Government is taking a series of measures to help small businesses grow. These include:
A new Employment Allowance which means that every business and charity in the country is now automatically entitled to a £2,000 cut in national insurance.

Steps towards the creation of a Government-backed business bank. The bank has been given £1bn of new Government funding, with £300m of this being invested by the Government along side private investors over the next two years to provide diverse sources of funding for SMEs.

A package of credit easing measures, to improve the supply of affordable credit to SMEs across the country, such as the Funding for Lending Scheme to support supply of credit to the whole economy, and the £1.2bn Business Finance Partnership to stimulate the development of alternatives to bank finance.

Supporting SMEs who lack sufficient track record or collateral to access bank finance by providing a Government guarantee on their loan. Since May 2010, over 10,000 SMEs have been offered Enterprise Finance Guarantee loans with a total value in excess of £1.04bn.

Increasing our commitment to venture capital investment and filling the equity gap for early stage innovative SMEs through the Enterprise Capital Fund programme. Since May 2010, more than 70 companies have received new investment totalling £95m.

Encouraging a more enabling environment for investment in SMEs through tax incentives – launching the Seed Enterprise Investment Scheme (SEIS) and expanding the Enterprise Investment Scheme (EIS) and the Business Angel Co-Investment Fund, which aims to support angel investments into high growth potential early stage SMEs.
Start-Up Loan case studies
Below are two growing businesses that have been helped with a Start-Up loan. To contact them please speak to:
Yasmina Siadatan Start-Up Loan company Email ys@hbpe.com
Telephone: +44 (0) 20 7399 6739
Mobile: +44 (0) 7786 443 695.
Or the Number 10 Press Office on 0207 930 4433.
Sam Amrani and Max Birner of TAMOCO
Location: London Delivery Partner: Start-Up Direct
Business partners Sam and Max decided to combine their complimentary expertise and capitalise on the growing Near Field Communications market and establish their start-up TAMOCO.
Since graduating after reading History and Law at UCL and QMUL, Sam worked in business development for mobile company EE where he had great exposure to the world of technology. Max graduated from the University of the Arts, London after reading Retail Management and worked in the financial sector in operations and investment management. The business partners set up TAMOCO in October 2012.
TAMOCO provides a portal that bridges the world between digital and physical platforms which allows B2C organisations to innovatively interact with their customers by providing innovative, customised, geolocation-based advertising, information and function based NFC campaigns. These campaigns can include website links, app downloads, instant social network following, tap to wifi and voucher downloads. The customer need only 'tap' their mobile phone over a tag which may appear on a poster, product or window. The customer will benefit by having easy access to a campaign that they are interested in and the organisation will benefit from the huge client base they can reach and from tracking the tagging to analyse unprecedented insights into what customers are interested in.
By February, TAMOCO was in need of funding to develop the core business platform, manage the data and finish off the product. After researching loans, Sam and Max came across The Start-Up Loan Company and decided to apply. They were assigned a mentor, Robert Luke, who provided assistance from the outset and whom they continue to work closely with. Luke's advice has been extremely helpful and he has connected Sam and Max with some fantastic people.
TAMOCO has got off to an extremely impressive start since its launch. Sam and Max have secured deals with a range of high profile corporates included Coca Cola and Hilton. In addition to Sam and Max, Tamoco has recruited twelve employees since drawing down the loan monies. These placements include seven full time employees.
The Start-Up Loans Company has enabled us to speed up the development of our company and secure clients in an industry which is all about the first mover advantage, and the additional benefits of having a mentor have allowed us to tap into a level of experience that has enabled us to start formulating the future of the company.
Simon Finch of Finch Installations
Location: Swindon Delivery Partner: South West Investment Group (SWIG)
Simon Finch was granted a £9,000 Start-Up Loan to start his shop fitting business, Finch Installations.
After 11 years in the construction industry, Simon made the decision to set up his own venture after the company he was working for lost a number of major contracts. Simon was approached by the installations manager who was in charge of re-allocating these contracts and was offered the contracts. Simon saw this as an opportunity too good to pass up so he began working on his business plan, financial forecasts and registering his company.
Once everything was in place, Simon needed to secure some funding to enable him to start trading. After searching for star-up funding, Simon came across The Start-Up Loans Company and was just within the age limit. He applied for a loan through Delivery Partner SWIG and felt supported from the outset. He found the whole process swift and efficient and the loan monies were in his account within 4 weeks from applying. John was assigned a mentor who has provided invaluable advice.
Simon has already recruited a team of 10, including 6 sub-contractors and 4 casual labourers to assist him with fulfilling Finch Installations' contracts. Simon says "managing people and teams as well as the invoicing, time-sheets and payments along with all of the other clerical duties has proved to be a challenge but is extremely fulfilling.
Finch Installations have excelled all of the financial forecasts that Simon drew up. Finch Installations is working on fittings for some high-profile clients including Asda, Tesco and J Sainsbury's. Simon is now considering approaching new customers and pitching for business and he is looking forward to working with his mentor in this regard. Simon also has had assistance from Leanne Morrison who is his accounts manager.
The help I received from my Start-Up Loan Delivery Partner, South West Investment Group, in particular John Peters, was, and continues to be fantastic and above and beyond the standard that I had expected. I was also assigned a mentor as part of my loan agreement. This proved to be invaluable in helping me to deal with any aspects of running a business that I was a little unsure of.
Additional quotes:
Professor Angus Laing, Dean of the School of Business and Economics at University of Loughborough and Chair of the Association of Business Schools said:
I welcome the far reaching recommendations of Lord Young's report and wholeheartedly accept his invitation to lead a national program to develop links between business schools, their faculty and students and small business. The support of the Association of Business Schools for the concept of a supporting small business charter and award scheme is reflective of our member schools shared belief in the role of business schools within the wider community as key economic drivers.
Published 12 May 2013
Last updated 13 May 2013
+ show all updates
Embedded YouTube video
First published.