Press release
Michael Gove sets out advice to schools on 'work to rule' industrial action
The Secretary of State for Education's advice to teachers regarding unions' current 'work to rule' industrial action.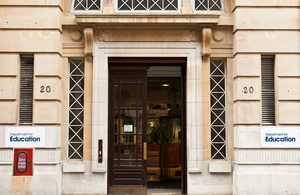 The Secretary of State for Education wrote to every school yesterday to give them advice on responding to the NUT and NASUWT's current "work to rule" industrial action.
The NUT and NASUWT have asked teachers to follow 25 instructions including:
refusing to be observed teaching by school leaders for more than three hours per year
refusing to provide more than one written report to parents per year
refusing to hand in lesson plans to senior management
refusing to undertake cover for other teachers
Head teachers have asked us for advice as they are concerned about the impact this is having on pupils' education. International evidence shows that this kind of action can damage pupils' attainment.

Many teachers have found that they need to pick up the work that other teachers should be doing. This is placing an increased burden on the very many hard-working teachers across the country who are not taking part in this action and are instead focusing entirely on providing the best education for their pupils.

Our advice makes it clear that teachers who are following the NUT and NASUWT's instructions are highly likely to be in breach of their contract and therefore, depending on the circumstances, heads can reasonably deduct their pay.
The advice is available on the Department for Education's website.
DfE enquiries
Central newsdesk 020 7783 8300
General enquiries 0370 000 2288
Published 13 December 2012