News story
Michael Gove presents honorary OBEs for services to education
Two Irish nationals have been awarded honorary OBEs for their outstanding contribution to education in England.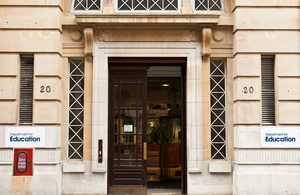 Education Secretary Michael Gove has today presented honorary OBEs to Ms Teresa Bergin and Mr James Flannery for their outstanding services to education.
As Irish nationals they received their awards at a ceremony at the Department for Education in Great Smith Street, London.
Teresa Bergin's OBE recognises her contribution to post-16 education. She led the development of the Diploma programme within the Qualifications and Curriculum Development Agency (QCDA) from its inception in 2005 until the first full cohort of two-year Diploma students received their awards in August 2010. She is currently Director of Programmes at UNICEF UK.
James Flannery received his OBE for his deep commitment to education over a career of 30 years, lately as acting Principal of St Luke's Sixth-Form College, Sidcup, Kent (now Christ The King College: St Mary's, Kent). He retired in August 2009.
Commenting on the awards, Michael Gove said:
I'm delighted to be presenting these awards to two individuals who have made a special contribution to education in our country. They have displayed a clear understanding of the importance of helping every pupil to do well. They can be justifiably proud today as we recognise their years of hard work and selfless dedication.
Notes to editors
As non-British nationals, Ms Bergin and Mr Flannery receive their awards from Michael Gove on behalf of Her Majesty the Queen.
The Diploma is a component qualification for students aged 14 to 19 that combines academic and vocational learning. Diploma qualifications were introduced in September 2008 and 14 subjects are currently being taught in schools and colleges. 4,787 Diplomas have been awarded since their introduction; and 45,000 students are currently working towards an award.
Christ the King St Mary's Sixth-Form College was designated in April 2010 to become a sixth-form college under the sponsorship of the Department for Education. It is located in Sidcup, Kent.
DfE enquiries
Central newsdesk 020 7783 8300
General enquiries 0370 000 2288
Published 10 May 2011