Michael Gove invites the public to hold the Department for Education to account
Ministers today published the Department for Education's key policy commitments and invited the public to hold them to account on delivery.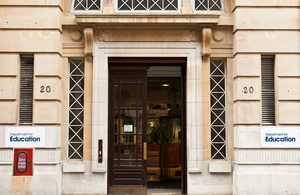 The draft Structural Reform Plan (SRP) sets out clearly what the Department's key priorities are for schools. It signals a reduction in restrictive and bureaucratic targets which meant little to the public. Instead, ministers are inviting the public to view and challenge all our key priorities for schools over the coming years, including dates for completion.
The SRP will be just one of the plans published by all major departments across Whitehall. They are designed to turn government on its head, taking power away from Whitehall and putting it into the hands of people and communities. Once these reforms are in place, people themselves will have the power to improve our country and our public services, through the mechanisms of local democratic accountability, competition, choice and social action.
The SRP outlines dates for cutting bureaucracy in schools, setting up free schools and academies, introducing the new pupil premium and creating new technical colleges for vocational and technical education. We will shortly be outlining priorities for children and families policy.
Further information
You can download the Structural Reform Plan from this page in PowerPoint and PDF format.
DfE media enquiries
Central newsdesk - for journalists 020 7783 8300
Published 13 July 2010